Mijn prijs van Revitalash/ Revitalash lashserum
Een week of twee geleden heb ik meegedaan met de winactie van Revitalash i.s.m. Glossybox via twitter en facebook en ik was de gelukkige winnaar.
Ik was superblij want ik zit al een poosje te denken om zo'n wimperserum te kopen. Op de site van yazylicious.nl had ik een review hierover gelezen en ik was al voor 75% om. De prijs hield mij een beetje tegen, zo'n wimperserum kost al gauw € 99,95 voor 3,5 ml en 2 ml kost € 69,95. Dus dat was mijn twijfelpunt plus het feit dat ik niet zeker wist of dit serum bij mij wel zou werken. Hoewel Yazylicious.nl erg positief was over de werking van dit serum. Zie hier de link naar het artikel van Yazylicious: http://www.yazylicious.nl/beauty/revitalash-wimperserum
Maar dat probleem is uit de wereld geholpen want gisteren ontving ik mijn gratis Revitalash Travel Kit. Dat was al erg snel vond ik, supergoed van Revitalash. De kit is een doorzichtig plastic toilettasje met blauwe afwerking. Het ziet er erg leuk uit, aan de voorzijde zit een karton waarop het merk staat plus afbeelding van een vliegtuig. Ook staat hierop aangeven dat Revitalash met dit produkt meerdere prijzen heeft gewonen. De prijzen zijn: 2010 America Spa Professional choice Award, 2011 America Spa Professional choice Award, Anti Ageing Award Winner Beauty Bible, Dayspa Readers Choice, 2012 Prix de Beauté Cosmopolitan.
Nou dat zijn nogal wat prijzen! Ik vond de motivatie van de uitvinder van het Revitalash wimperserum ook erg mooi. De uitvinder Michael Brinkenhoff is een Amerikaanse oogarts wiens vrouw (Gayle) herstellende was van borstkanker. Door de intensieve chemotherapie waren de wimpers van Gayle beschadigd. Ze waren dun, minder vol en erg breekbaar. Haar man heeft daarom het wimpergroeiserum ontwikkeld om de wimpers van zijn vrouw weer sterk en gezond te maken. Dit is gelukt want haar wimpers groeiden weer aan en waren zelf mooier dan tevoren. Wat ook belangrijk is om te melden is dat een deel van de opbrengsten van Revitlash naar het Pink Ribbon fonds gaan.
Revitalash heeft behalve het wimpergroeiserum ook Revítabrow (voor het krijgen van vollere wenkbrauwen) en Hair bij Revitalash (voor dikker en voller haar). In mijn pakket zat behalve Revitalash ook een voluminizing mascara. Ik ga zo snel mogelik met Revitalash beginnen en zal jullie d.m.v. foto's op de hoogte houden van de ontwikkelingen. Ik heb er echt veel vertrouwen in dat het werkt.
English
Last week i won a Revitalash Travel Kit. I entered a contest on Twitter and won. I knew about Revitalash from another beauty blog (yazzylicious.nl). The blogger was so enthousiastic about this product and the pictures showed good results. I always wanted longer lashes so i thought maybe this would work for me too. Because of the price (€ 99,95 for 3,5 ml and € 69,95 for 2 ml ) i had to think this through. I wasn't sure that this Lash serum was going to work for me too. So when the contest was announced i didn't have to think twice.
I received the Travel kit very quick after the announcement, last Wednesday. I thought that was a very good job of Revitalash. The kit comes in a see through plastic make up bag, with blue finishing. I think it looks nice, in the front there is a piece of cardboard with an airplane and the words Revitalash Travel kit on it. Also on the front all the prices that Revitalash has won are named . Quite a lot of prices actually; 2010 America Spa Professional choice Award, 2011 America Spa Professional choice Award, Anti Ageing Award Winner Beauty Bible, Dayspa Readers Choice, 2012 Prix de Beauté Cosmopolitan.
I do like the idea behind Revitalash. The founder Michael Brinkenhoff who is an American ophthalmologist who's partner suffered from breastcancer. Because of the chemotherapy her eyelashes were damaged. They were thinner, less full and they would break easily. Doctor Brinkenhoff invented the serum to make his wifes lashes as beautiful as they were before. This certainly worked out, her lashes became even more beautiful than they were. It's nice to know that a part of the proceeds of Revitalash is donated to the pink ribbon fund.
Revitalash has a couple of other products, Revítabrow (for fuller eyebrows) and Hair by Revitalash (for thicker and fuller hair). In the make up bag i also received a volumunizing mascara from Revitalash. I'm going to review Revitalash lash serum after using it for a month. I will take pictures once a week to let you see if there are improvements. Unnecessary to say that i've got high hopes about this product.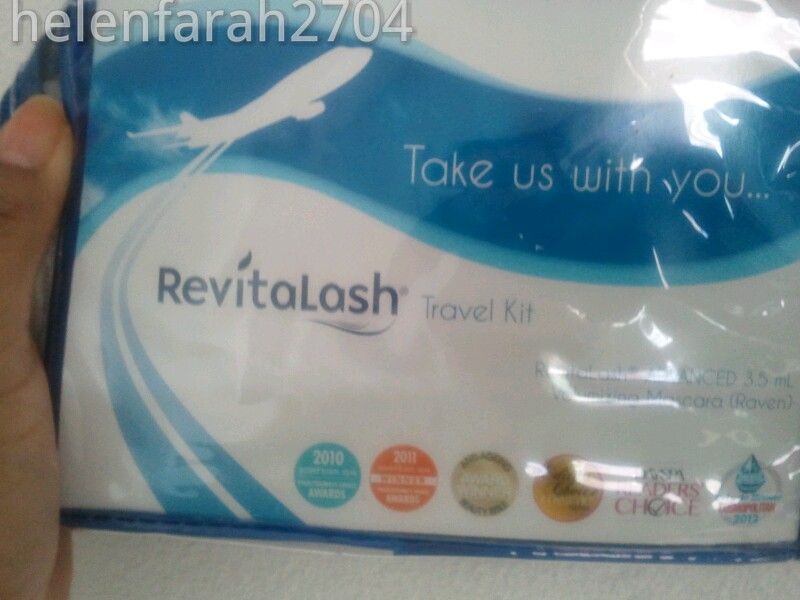 Revitalash serum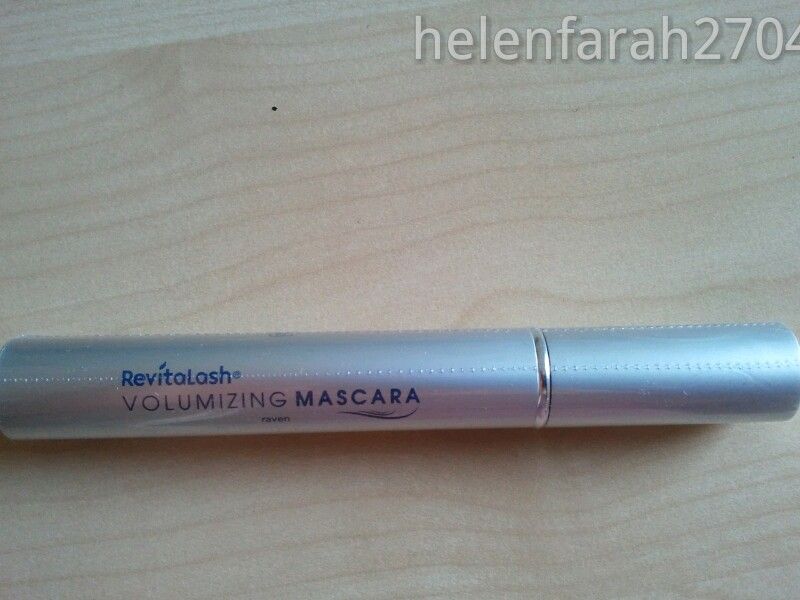 Voluminzing Mascara
N.O.T.D.
N.O.T.D. using Essie's Coral Canyon and Icing in Sunlit. For the french i used a striper. Misa nr 17 Gold Rush.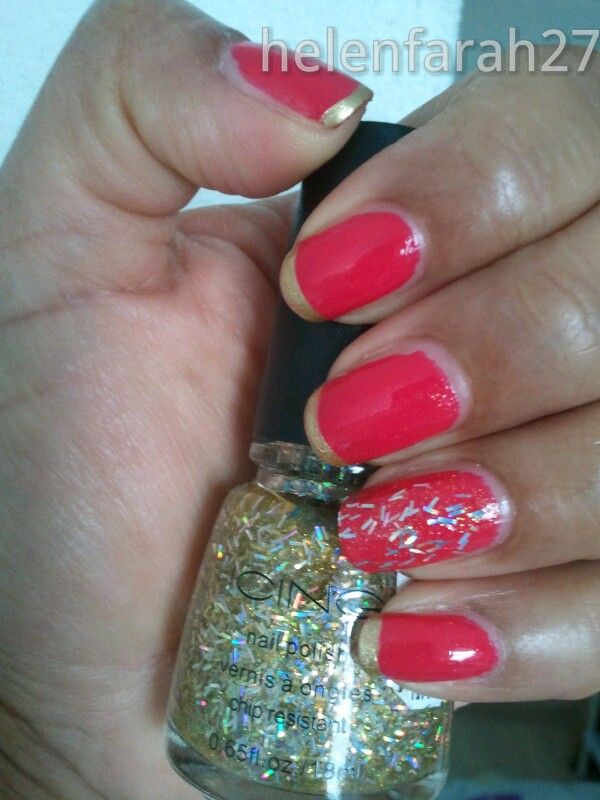 Droogshampoo Andrélon/ Andrélon dry shampoo
Een stukje over Andrélon droogshampoo. Dit jaar heeft de droogshampoo een comeback gemaakt. Ik ken het zelf uit de jaren 70 (ik was toen nog een tween) ook van het merk Andrélon. Ik weet dat ik het een keer geprobeerd heb maar dat ik er toen niet echt tevreden over was. De droogshampoo zat toen nog in een potje en vanuit het potje moest je de poeder op je haar smeren. Dit werkte totaal niet.
Maar terug naar 2012, de droogshampoo heeft een totale verbetering ondergaan. Het zit nu in een handige spuitbus en het ruikt lekker fris. Eerlijk gezegd om de geur alleen al zou ik het gebruiken. Ik heb deze droogshampoo al een paar keer gebruikt en ben er zelf erg tevreden over. Hoe werkt het? Je spuit op ongeveer 20 cm afstand de droogshampoo in je haar en laat dit ongeveer 2 minuten zitten. Daarna kam of föhn je het uit. Ik föhn het uit en maak draaiende bewegingen over het ingespoten gedeelte van mijn haar, met mijn hand. Het verschil is meteen voelbaar mijn haar voelt luchtiger en niet vet meer aan. Deze shampoo geeft je haar weer een verfrissings boost. Ik heb gekozen voor "verrassend volume" voor slap of futloos haar. Opgelet want als je donker haar hebt en je kamt of föhnt het niet goed uit, dan zie je de witte poeder in je haar.
ENGLISH
Today i'm doing an item about dryshampoo. I recently bought one of the brand Andrélon. Dry shampoo has made a comeback this year, everyone is talking about it. I know dry shampoo from the seventies (when i was a tween) i remember buying one from the same brand (Andrélon) the shampoo came in a jar back then. The problem was that you had to take the powder out of the jar and apply it in your hair. That was such a mess, i remember i didn't like it at all.
Fast forward to 2012, dry shampoo comes in an aerosol now. Which makes it much easier to apply. What i also like about this dry shampoo too, is that its smells so fresh. Just because of the scent i want to use it. I've used it a couple of times and i love it. It takes the grease away and it adds volume. How do you use dry shampoo? You hold the can from about 20 centimeter distance then spray it into the roots of your hair. Leave it in for about two minutes then comb or blowdry it out. I blowdry it out while my hand is making circular movements in my hair. This dry shampoo gives your hair a fresh boost and it adds volume. Be careful though, if your haircolour is dark and you don't thoroughly comb or blowdry the powder out, it will show.
,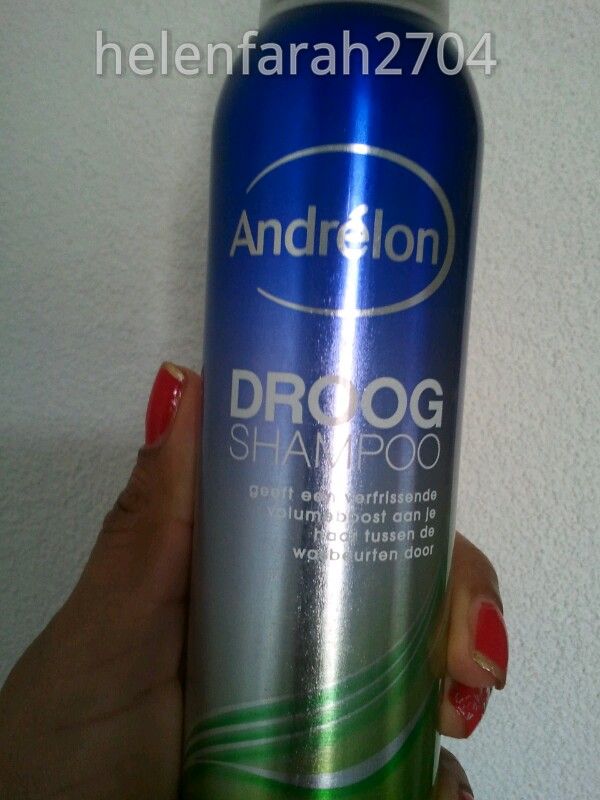 N.O.T.D. (nothin mouse bout it)
Today i'm wearing NYC's Bubblegum Pink ( 251) and Opi's Nothin Mouse bout it (from the Minie Mouse collection) on top. I love the heart shaped flakeys in this polish. I had to take them out with a toothpick to place them on my nails. I couldn't get them on my nails with the brush. I think they're cute and i hope they stay on.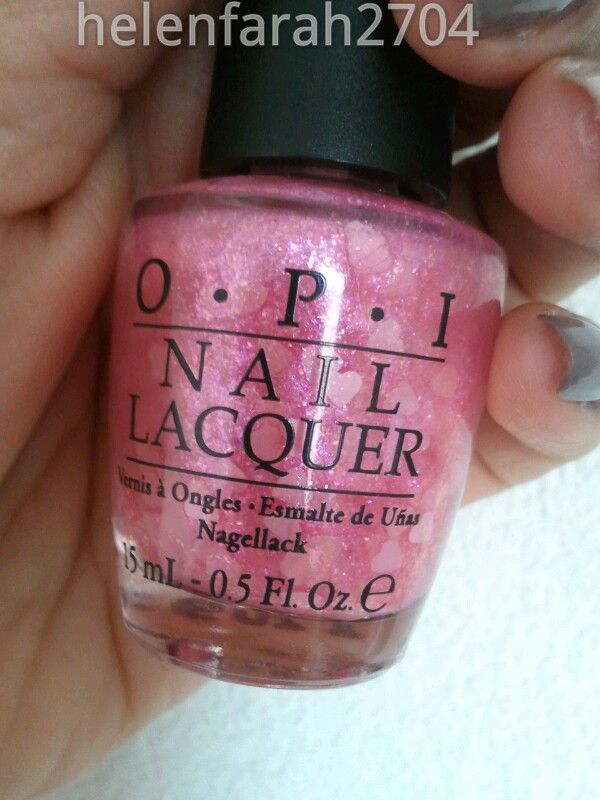 Favorieten van July/ July favourites
Zo de maand juli is alweer voorbij en gelukkig hebben we wel mooie zomerdagen achter de rug. Zo onderhand is iedereen die ik ken alweer op vakantie, of op vakantie geweest. Ik mag nog even doorweken want ik ga in oktober op vakantie. Maar zover is het nog lang niet. Nu ga ik het over mijn favorieten van de maand juli hebben.
Mijn juli favorieten: de meeste produkten gebruik ik maand in maand uit. Deze maand ben ik wel een aantal produkten vaker of zelfs voor het eerst gaan gebruiken. Mijn favorieten voor deze maand: nagellak, een oogcreme en een beetje make up. Kijk maar even mee.
Now that the month of July has come to its end, i'm presenting my July favourites. So grateful we can look back on some beautiful sunny days this month. I'm not vacationing yet, my vacation will be in October so that's something i'm really looking forward to.
Back to my July favourites. Most products i use whole year through. But i found some products i learned to love or just used more this month. It's a combi of nailpolish, some make up and skincare. I added Cascade Cool, just for the pic.
1. Essie nagellak. Deze maand heb ik twee nieuwe Essie kleuren gekocht namelijk Mint Candy Apple en Fiji. Twee mooie pastel kleuren een mintgroene, Fiji is een gebroken wit achtige kleur met lila ondertoon. Ik ben echt een Essie fan omdat de lak gewoon super is. Het droogt snel, ook als je meerdere lagen aanbrengt wordt het geen dikke kliederzooi. Voor de gezelligheid heb ik Cascade Cool er ook maar bij gedaan.
1. Essie nailpolish. I bought two new Essie's this month Mint Candy Apple and Fiji. Very beautiful pastel polishes. I'm becoming a real Essie fan just because this is one of the best nailpolish brands ( in my opinion). What i love about it is that these polishes dry in an instant. Really i don't need my "quick drying drops" (Essence) for this polish even after applying more than two layers.
L to r: Fiji, Mint candy apple and Cascade Cool
2.Mac cremesheen glass in Loud and Lovely. Een mooie fuchsiaroze kleur, die ik al een tijdje in huis heb. Doordat het niet zo dekkend is gebruikte ik deze gloss niet, ik vond de combinatie met mijn natuurlijk lipkleur niet zo mooi. Maar in combinatie met een roze lipstick geeft het een prachtige dekking, daardoor is het een van mijn favorieten van deze maand. Erg zomers.
2. Mac cremesheen glass in Loud and Lovely. A lovely fuchsia colour. I bought this colour in January but i haven't used it till now. It's not a strong pigmented lipgloss (like the Nyx lipglosses) and i didn't like the way the colour looked on my lips. Now summer is here and i'm wearing bright pink lipsticks again, i decided to make it work. I combined Loud and Lovely with one of my pink lipsticks and voila this is the result.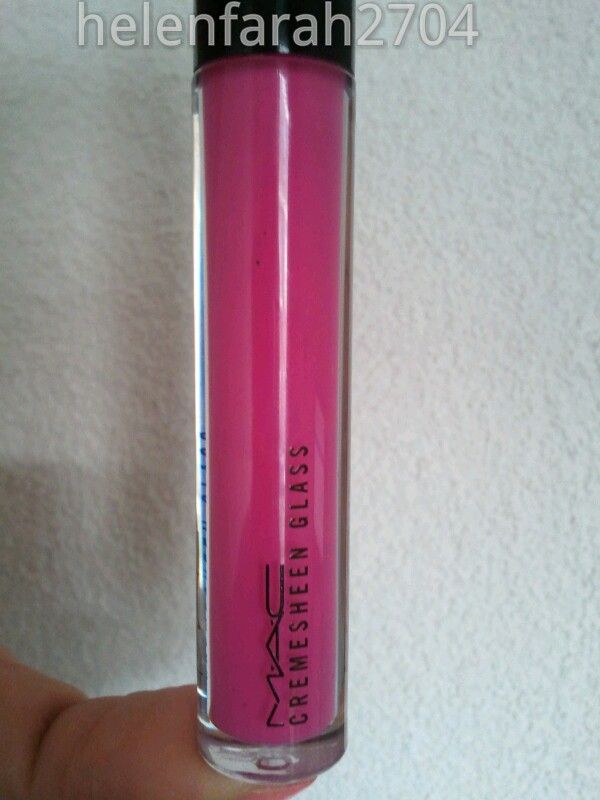 Swatch Loud and Lovely
Pink lipstick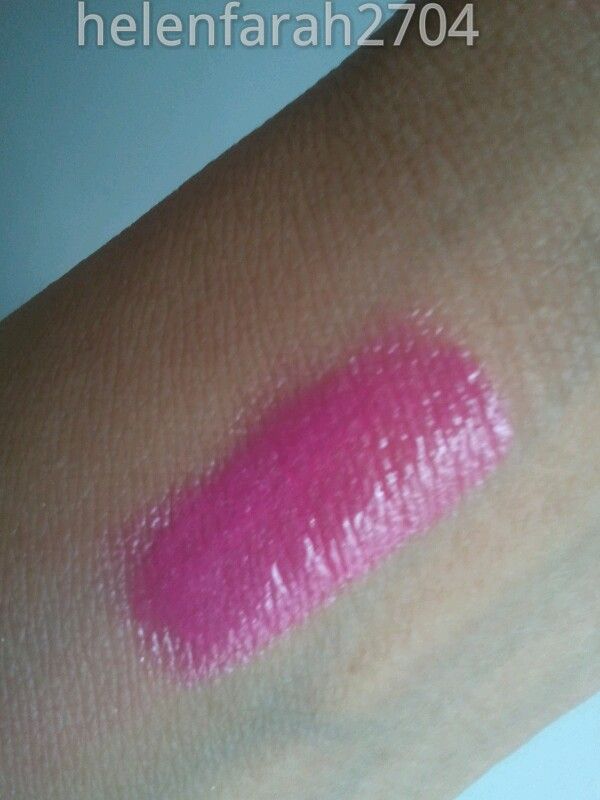 Loud and Lovely over pink lipstick
3. Clinique Super defense Spf 20 oogcreme . Een hele fijne oogcreme want het verzorgt en biedt bescherming tegen de zon. En als bonus bevat het een brightner waardoor het het gebied rond de ogen, wat oplicht. Voor een fris uitziende blik. Super vind ik dit. Ideaal als je een "make up loze" dag wilt doen. Wat BB creme op en dan deze oogcreme meer heb je dan niet nodig. Nou vooruit misschien wat mascara of gloss ;-).
3. Clinique Super defense Spf 20 eyecreme. This eyecream i've been using for about a month now and i'm really satisfied with it. The Spf protects against the radiaton of the sun, it is an anti ageing cream and it brightens. You instantly see the diffrence when you put it on, the eye area looks so much lighter. I love to combine it with a BB creme especially for those "non make up" days. This eye cream i can highly recommend.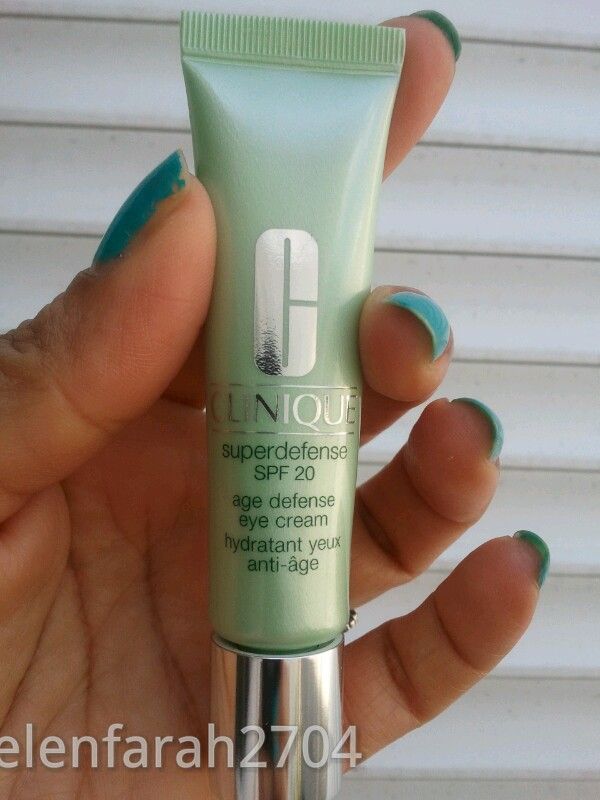 4.Maybelline Color Tattoos. Superblij ben ik met deze creme oogschaduws. Mijn favoriete kleuren voor deze maand zijn Eternal Gold en On and on Bronze. Deze creme oogschaduws blijven de hele dag zitten, ideaal om te gebruiken op een warme zomerdag.
4.Maybelline Color Tattoos. I love the color tattoos from Maybelline. I've been telling you about these long staying cream eyeshadows before. The colours i used most this mont are Eternal Gold en On and on Bronze. These shadows stay on all day, i especially like to wear them on those warm summerdays.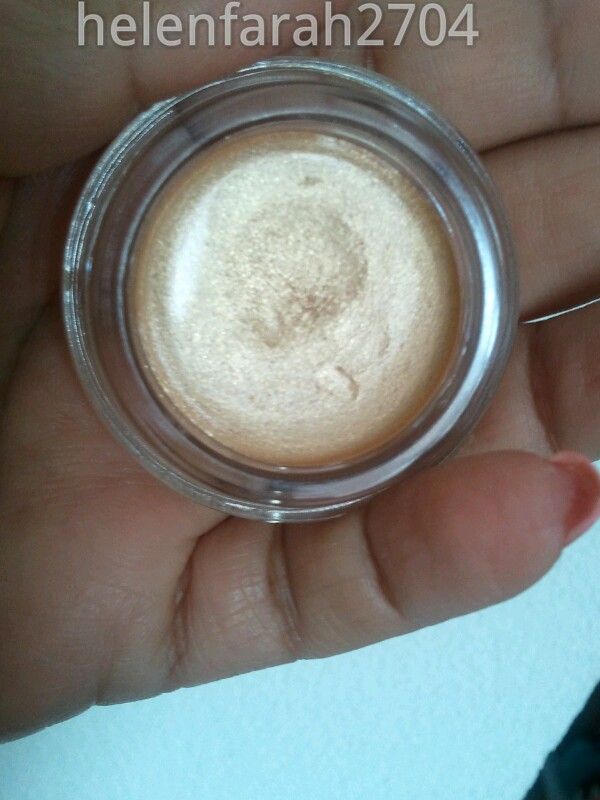 Eternal Gold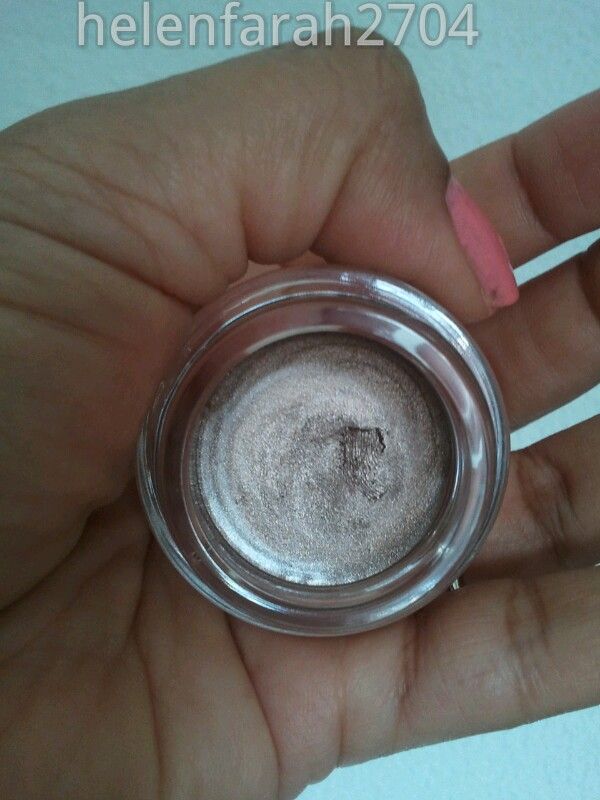 On and on Bronze
5. Essence eau de toilettes. Deze lijn is zo rond april uitgekomen. Mijn lievelingsgeur is "like a first day in spring" een lieve bloemige geur. Mijn tweede favoriet is "like a trip to New York" een frisse geur met een ondertoon van sinaasappel. Ik krijg energie van deze geur. Het heeft iets weg van "So You" van Giorgio Beverly Hills. Essence eau de toilettes zijn betaalbare geuren die nog heerlijk ruiken ook.
5. Essence eau de toilettes. Just around April Essence introduced their new line of perfumes. I bought two scents from this range "like a first day in spring" and "like a trip to New York". "like a first day in spring" is a sweet and innocent flowery scent. "like a trip to New York" is a fresh scent with an orange undertone. It's a bit like "So You" from Giorgio Beverly Hills. These are affordable eau de toilettes which smell really good.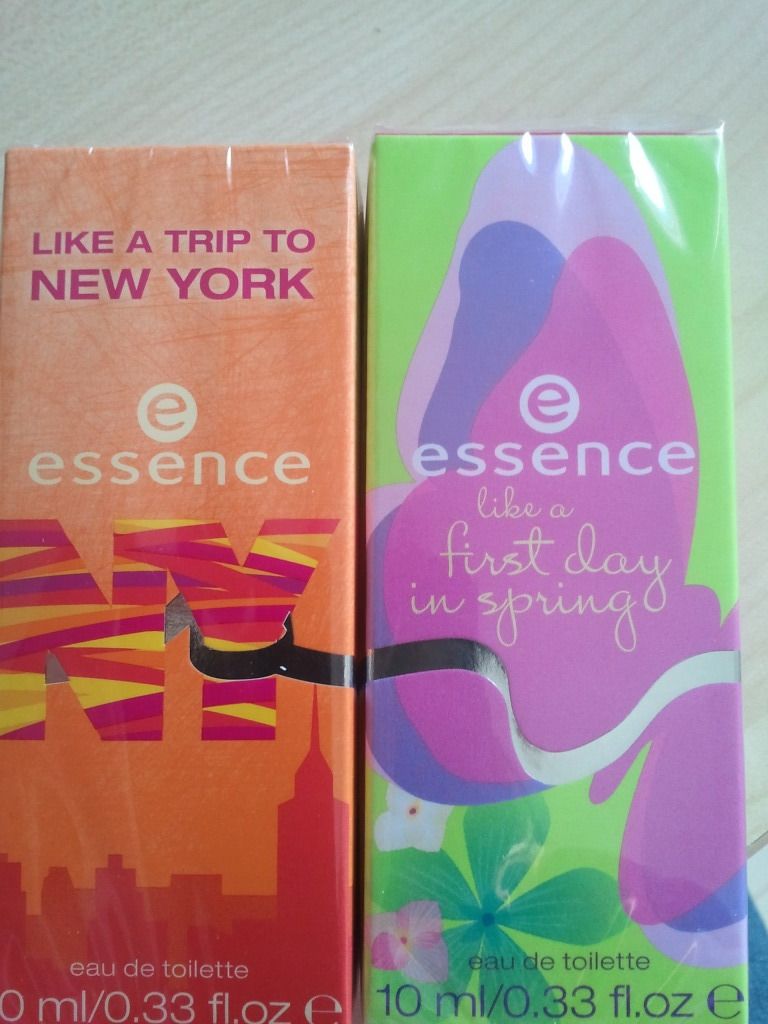 6. Mijn glasvijl van Céleste. Ik heb meegedaan aan een enquete van Céleste en als dank kreeg ik deze vijl. Ik heb het net één keer gebruikt maar ik ben er erg tevreden over. Het is een zachte vijl, ik bedoel zacht voor de nagels maar stevig genoeg om je nagels goed in model te kunnen vijlen. Wat ik ook erg fijn vind is dat het in een huls zit waardoor je het ook makkelijk in je tas mee kunt nemen.
6. My glassfile from Céleste. I received this as a gift from Céleste, after filing in a survey. I used it once and it is the first time i ever used a glass file. What i like about this file is that its strong enough to shape your nails and still it is soft on the nails. A plus is that i can carry the file in my handbag too because it came with a shield.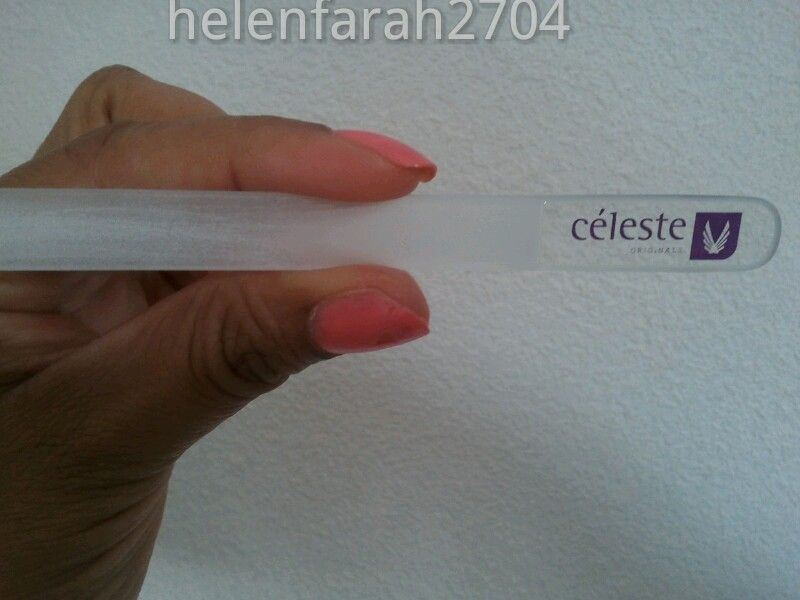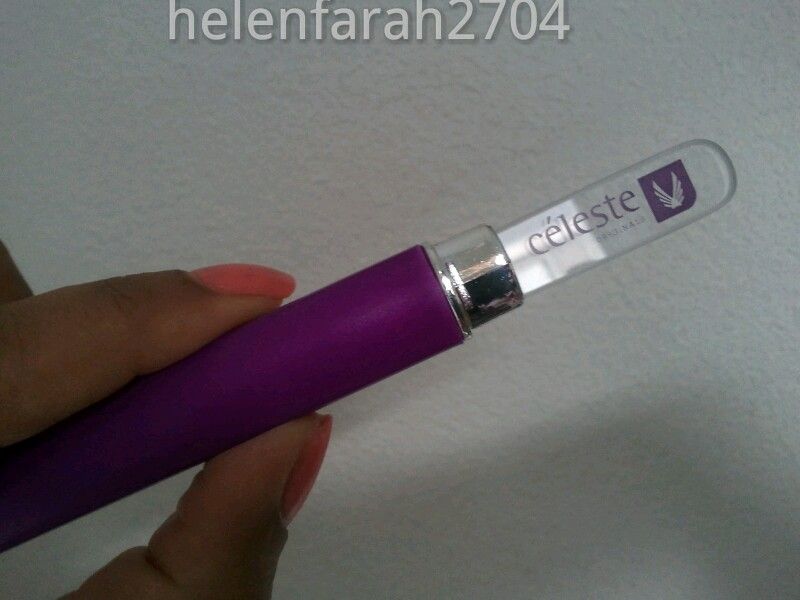 Vaseline cocoa radiant rich feeling lotion / I love tropical paradise showergel
Ik gebruik het hele jaar door een bodylotion omdat ik een droge huid heb. In de winter is mijn huid zelf extra droog. Hierdoor heb ik door de jaren heen bodylotions van diverse merken gebruikt. Wat ik jarenlang gebruikte was de Nivea bodylotion met vitamine E in de blauwe fles. Nivea heeft een paar jaar geleden haar lijn met huidprodukten vernieuwd en volgens mij bestaat mijn favoriete bodylotion niet meer.
Geen probleem er is zoveel aanbod dus ben ik op zoek gegaan naar een goede vervanger. Ik gebruik nu al een paar jaar de bodylotion van Vaseline met cacao extract, het ruikt heerlijk en het is een erg voedende creme. De lotion trekt meteen mijn huid in, heel fjn dus geen plakkerig gevoel, en mijn huid voelt daarna lekker soepel aan.
Normaal gebruik ik deze bodylotion alleen in de winter maar goed nu ook maar een keer in de zomer. Wat ik ook heel fijn vind is, dat ik na het aanbrengen van de lotion zo lekker zoet ruik. Ik hou van zoete geuren en van alles wat zoet is trouwens. Als je ook van zoete geuren houdt en op zoek bent naar een voedende bodylotion, dan kan ik je Vaseline cocoa radiant van harte aanbevelen.
English
Summer or winter i always need a bodylotion, i have dry skin and in winter it's extra dry. So through the years i've tried bodylotions of several brands. Today i wil be reviewing the Vaseline cocoa radiant body lotion.
I used this body lotion for several years now and i like the smell and the moisturizing effect it has on my skin. Vaseline rich feeling lotion has that sweet cocoa smell, yumm. Normally i use it only in the winter but okay this time i decided i'm using it in summer too. This is a very rich body lotion and my skin absorbs it immediatly. I hate that sticky feeling after applying bodylotion with Vaseline bodylotion i don't have that problem.
What more can i say about it, its moisturizing and it smells good, so give it a try. It also gives your skin a healthy glow.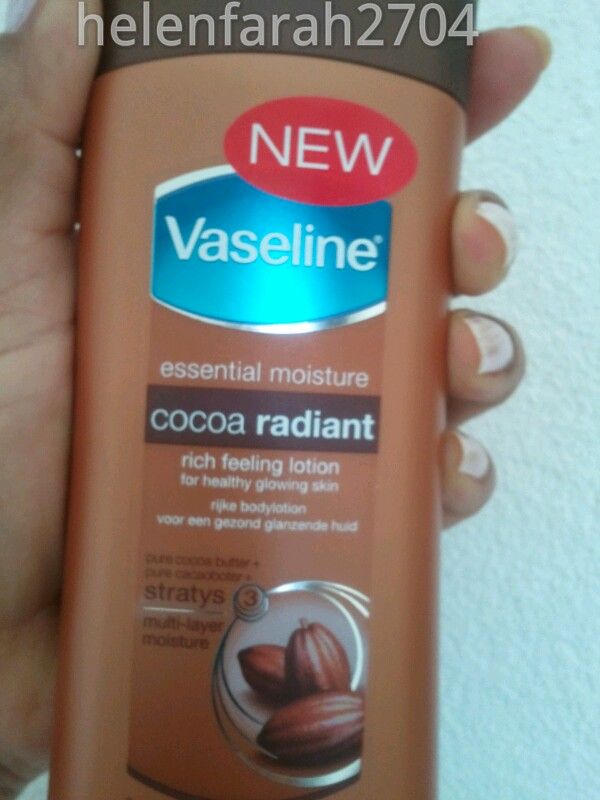 Bubble bath en Showergel
Een paar weken geleden heb ik bij Douglas de I love... tropical paradise bubblebath en showergel gekocht. Echt een heerlijke zoete geur heeft deze showergel. Het is een mix van kokosnoot, ananas en grapefruit. Als je dit in bad of onder de douche gebruikt dan droom je gewoon van een tropisch eiland. Genietend van de zon en de zee...
English
Bubble bath and Showergel
Something to go with the cocoa smell of my bodylotion, is the I love.. tropical paradise showergel. This showergel has that tropics scent through and through. It is a cocktail of coconut, pineapple and fresh grapefruit. It smells heavenly very sweet though, so if you're not into sweet scents this isn't the showergel for you.
I myself love things that smell sweet so i'm enjoying this showergel. Dreaming of being on a tropical island enjoying sun and sea.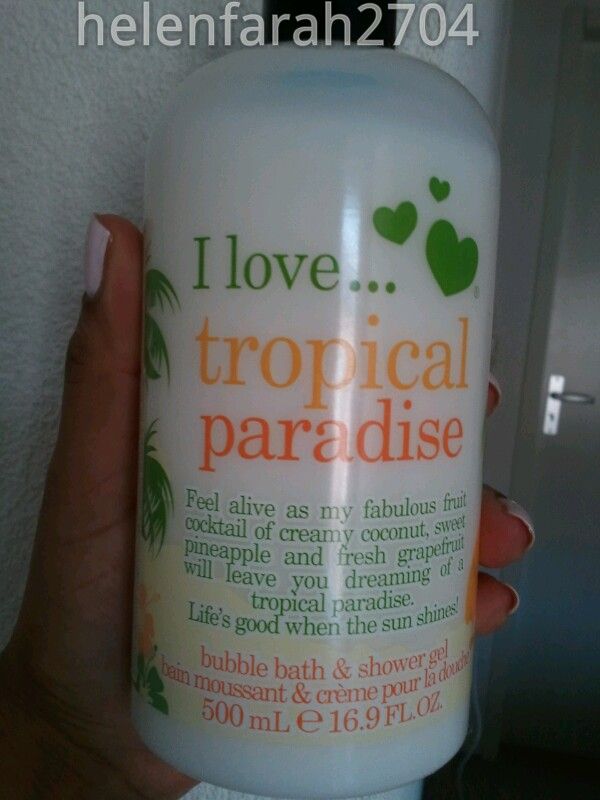 My nailpolishes and the way i storage them
My collection of polishes are mostly from the Essence brand. I recently made a video about (part) of my Essence nail polish collection. http://www.youtube.com/watch?v=mH-w4UbktDs&feature=plcp. Go check it out.
Today i'll be showing some photo's of the rest of my collection and the way i storage them. I have three plastic containers that's where i keep my nailpolishes in. I don't want my collection become too large, so every now and then i give some away. I have some Essie, 1 Sephora by OPI, some China Glaze and a couple of random brands. I'm not obsessed by brands but i am obsessed by colours. If the colour is beautiful, i will buy the polish. I do like Essie and Essence polishes the most.
My favourite nailpolish colours are pinks, i think thats what i wear the most on a daily basis. In fact i love a lot colours from brights to nudes.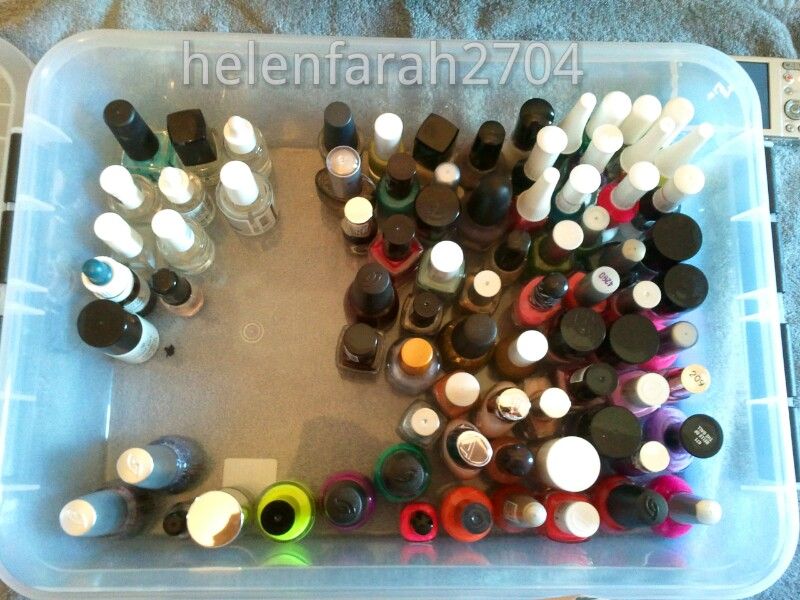 This is one of the containers where i keep my nailpolishes. It's high enough to place the bottles upwards.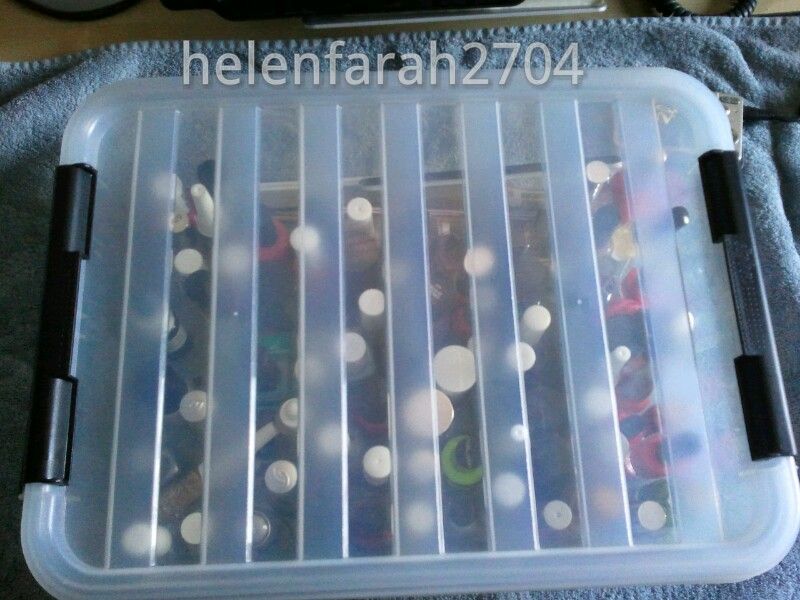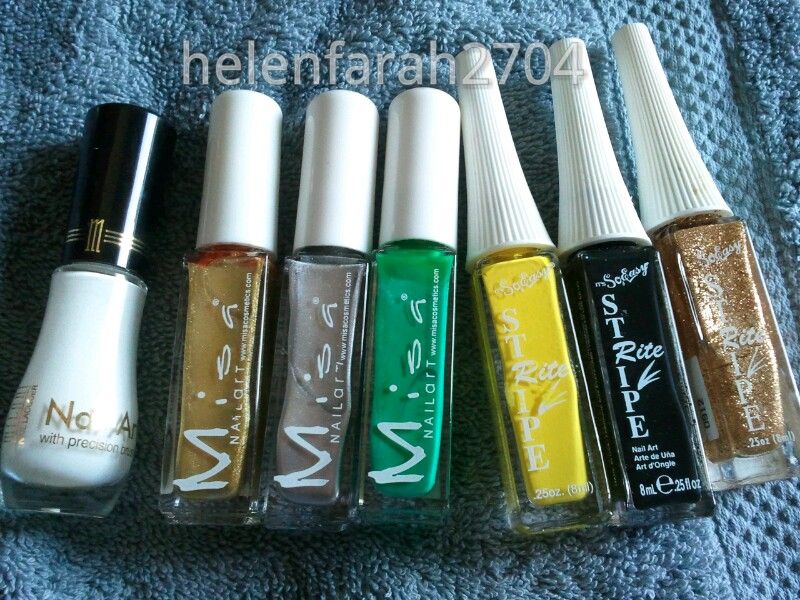 These are a few of my stripers, i forget to put in the pink one ;-). From L to R: Milani 704 White Canvas, Misa 17 Gold rush(no sparkle) , Misa 27 Work it, Misa 07 Sea Crystals, Rite stripe 1C03, Rite stripe 1G19, Rite stripe 0912 (gold sparkle).
My nailstar stripers, u can use them two ways, with a brush or you can stripe the colours. From L to R: black one no sticker sorry, nr 54, nr 23, nr 28, nr 19.
The Green polishes. As you can see some popular brands but most brands are random. From left to right: Catrice 600 After Eight, China Glaze 1007 Turned up turqoise (neon), Paris memories 245, TL design Bombay, Dutch brand Etos no name or number.
The bright pinks. The sticker of the Wet n Wild one has vanished. Nyc and Wet n Wild are the most wellknown brands of the five. From left to right: 2true shade nr 1, Safari nr 155, Basic nr 05, Wet n Wild nr 429D, Nyc nr 111 Perpetual peony.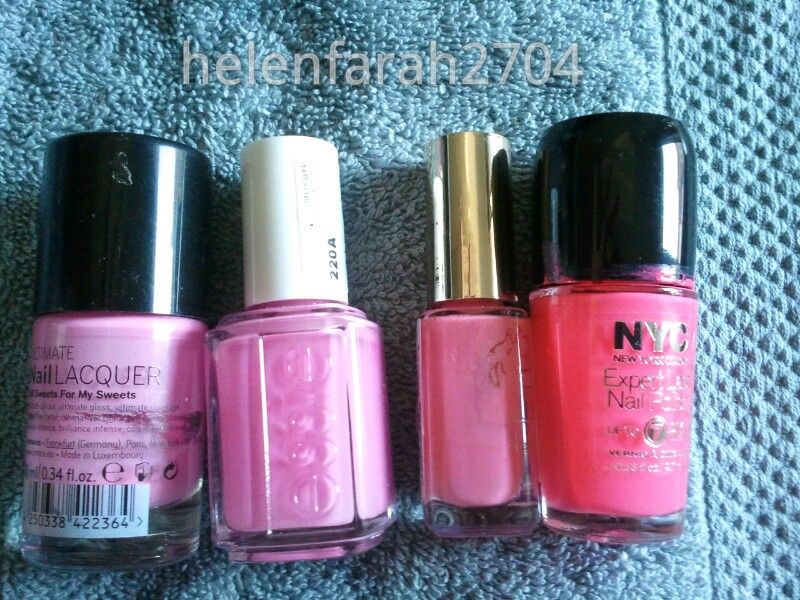 Light pinks and 1 brighter pink. From left to right: Catrice Sweets for my sweets, Essie Cascade Cool, Loreal 209 Ingenuous rose, Nyc 251 Bubble gum pink.
Purple shades, the two on the left are Dutch brands. Confetti 071 Belle of the ball and Catrice Heavy metallilac.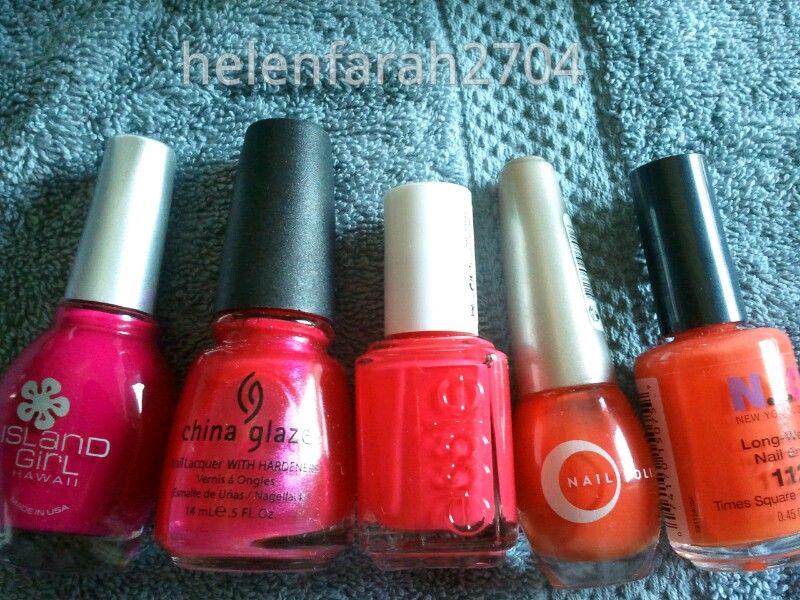 Reds and oranges. The Nyc 112 A Times Square Tangerine polish i bought in 2010 while vacationing in LA,during the world championship soccer, in support of the Dutch team. So is the second on the right, orange to support the Dutch team, it's from the homebrand of a dutch drugstore. The first on the right i bough in Las Vegas it's from the brand Island girl.095 Restless by China Glaze and Essie Canyon Coral.
Nudes and bronzes. The Avon colour is 7 years old (but still fluid) so are the three on the right. I keep my polishes for quite a long time. From left to right: Catrice 050 Moulin rouge light, Avon Wink, Sally Hansen 08 Vanilla whimsy, Basic no name or number, Beyu 212, Chicogo 604.
Gold and gold sparkles. Two from the left are Dutch brands Etos and Hema. Second on the right : Catrice 140 Glamour gold (this is an old one) and first on the right: Icing Sunlit (you can buy this brand at Claire's).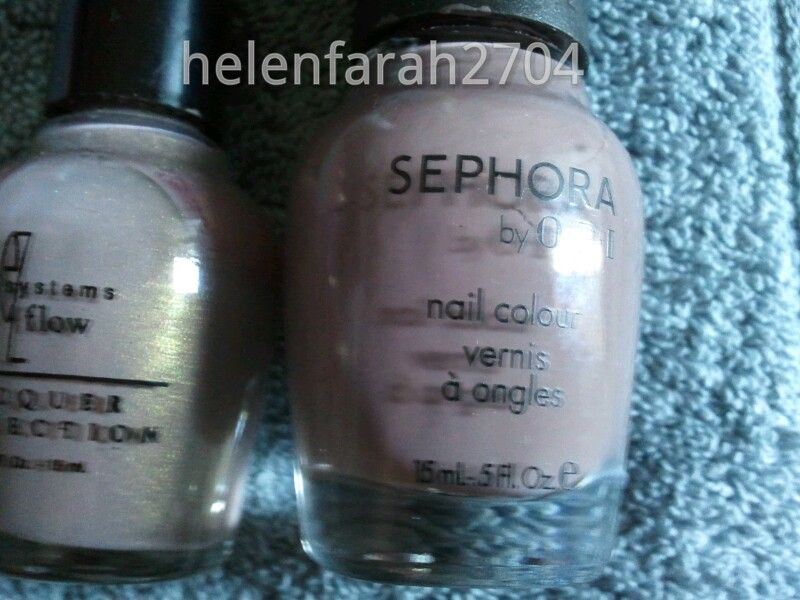 The taupes, Metro Chic by Sephora by Opi has a matt finish. On the left: Ez flow ww 32 Lavender raincoat.
Off whites: on the right Entity 010 Natural White for a french nail. The sticker on the first polish has disappeared, too bad.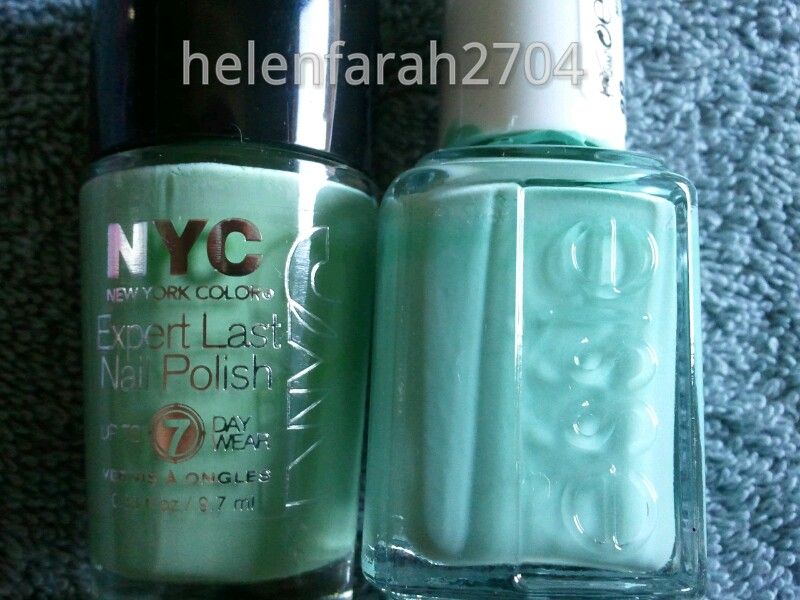 Mints from L to R: Nyc 253 Mint Macaroon and Essie 99 Mint candy apple.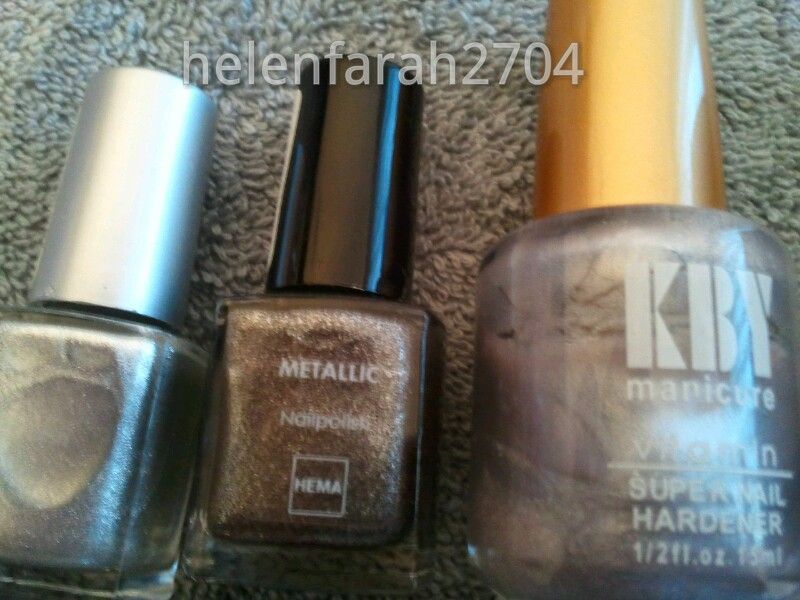 Silver and silver metallics. The two on the left are from the home brand of a Dutch Warehouse Hema nr 11 and i don't know the number of the second one.The first on the right is from KBY manicure nr 24, it's a Chinese brand.
Neons from L to R: Sally girl no number or name, China glaze 1011 Flying dragon and 1007 Turned up turqoise, Nina ultra pro 709515.
blue-ish and greenish. The name of the Rimmel polish is 825 Sky high. Etos (dutch brand) no name or number.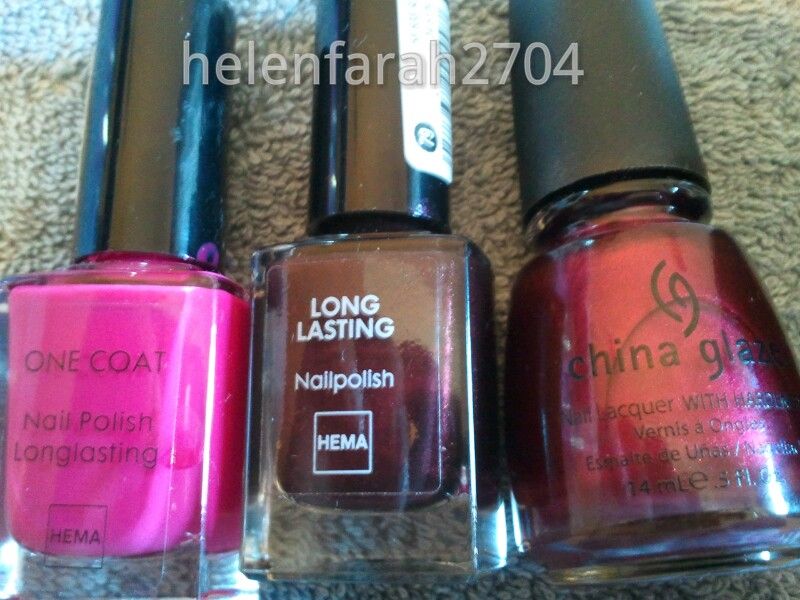 Burgundy colours, nice for fall and winter. I'm not sure if the one on the left belongs to this range. But it is a lot darker than the photo shows. From L to R: Hema (dutch brand) nr 210, Hema 79, China glaze 735 Skate night.
My favourite black polish on the right. It's from Margaret Astor a brand that is'nt (to my info) sold anymore in Holland. I have this polish for 5 years (maybe longer) now. I use a nailpolish thinner to keep it fluid. I feel happy when i put on this colour. L to R: Nyc 272 Bowery black, Margaret Astor nr 245.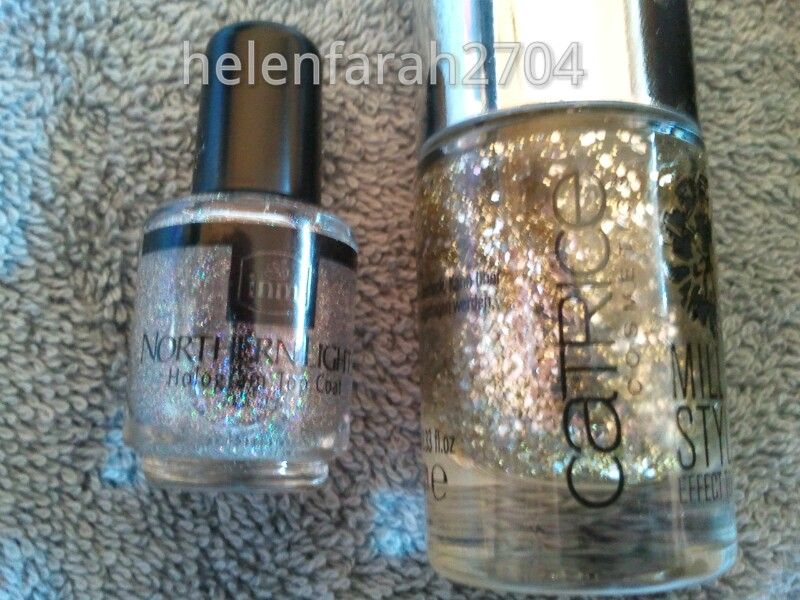 My special effect top coats. The one on the left is a hologram topcoat from Inm. The other is from Catrice's Million styles effect top coat in Million dollar baby.
Two colours from the prismatics series from China Glaze, 1027 Full Spectrum and 1026 Prism.
N.O.T.D.
Essie nailpolish in Fiji. I bought this polish last friday, at first i wanted to buy Watermelon. Watermelon is a fuchsia colour and i love to wear bright colours especially in summer.
But for some reason i decided to buy Fiji. Fiji is a very light violet/lilac colour. On the pictures it looks more like a soft pink but its a soft violet/lilac. I love the colour it looks so serene on the nails and hands.
Essie polishes are the best polishes, in my opinion, they dry very quick and i absolutely love the colours. I used 3 coats on my nails wich isn't a problem with Essie. The layers never get too thick and dry within minutes. Over here in Holland an Essie polish costs € 10,- . Which makes it a bit pricey but i think it's worth the money.
Nieuwste aankopen (Latest Purchases)
Het leek me leuk om weer een opsomming van mijn aankopen van de laatste tijd te doen, met bijbehorende foto's. Ik heb nogal wat aangeschaft de afgelopen weken. Make up kopen is gewoon harstikke leuk en ik ben een shopaholic wat dat betreft. Ik word erg beïnvloed door de haul video''s op You tube, als er weer mooie nieuwe artikelen zijn, dan denk ik weer oh dàt moet ik nog hebben. Daar zijn die filmpjes dan ook voor bedoeld ;-). Waar ik heel erg blij mee ben, zijn de Color tattoos van Maybelline die sinds een tijdje ook in Nederland te koop zijn. Ik heb er pas weer 2 aan geschaft, zie de foto's, en ik heb nog een paar kleuren uit deze serie op mijn verlanglijstje staan.
Verder heb ik ook de wat meer "technische" dingen gekocht zoals een kwastenreiniger +/- € 15,- (Make up forever) deze spray gebruik je om over je make up kwasten te sprayen nadat je ze gebruikt hebt. Het houdt ze schoon en het verzorgt de haren van de kwasten. Het blijft wel nodig om 1 x per week je kwasten te reinigen met (baby) shamppo. Ik heb ook mijn eerste bestelling bij de online winkel van Mac gedaan: een wimperkruller € 17,- (Mac), lippenpenseel uitschuifbaar € 25,- (Mac) en fixing spray € 16,50(Mac). Ik moet zeggen dat ik binnen 3 dagen mijn bestelling binnen had, dat is erg snel vind ik.
Ik heb ook nog Nyx make up gekocht, hier heb ik niet zo lang geleden een blogartikel aan gewijd. Ik blijf maar bestellen bij Boozyshop want ik heb een leuk oogschaduwpallet voor ongeveer € 14,95 (kortingsprijs) gekocht, een heel mooi pallet met goed gepigmenteerde kleuren. Het leuke aan dit pallet is dat er neutrale kleuren in zitten maar ook hele felle zoals bijvoorbeel knalrood en geel. Hiermee ga ik een 80's look doen, dit blogartikel volgt nog. Verder heb ik, ook bij de Boozyshop, een tissuehouder in de vorm van een cupcake besteld voor € 7,95. Superschattig. Dat was het zo'n beetje oja ik vergeet nog de Coolibri collectie van Catrice die pas is uitgekomen, daarvan heb ik maar 1 lipgloss (neutraal) gekocht. Ik was eerlijk gezegd niet zo onder de indruk van deze collectie. Wat huidverzorging betreft heb ik 2 belangrijke aankopen gedaan, de Cinique Superdefensive spf 20 mét brightener en de peeling van Qiriness Le wrap exfolys (zie een vorig blogartikel). Dat waren mijn aankopen van de afgelopen weken. Zie de foto's.
ENGLISH
It's time again to show you my recent purchases. I bought quite some make up lately. Make up shopping is so much fun, i'm becoming a real makeupaholic. Watching the You tube haul video's makes me want to buy even more make up ;-). My favourite purchase are the Maybelline Color Tattoos i'm so glad they're out in Holland. Recently i bought 2 colours more and i still have a few other colours on my wishlist.
Let's go further with the non colourful make up items i bought. I bought a brush cleanser bij Make up Forever. This cleanser you can spray on your brusher after using, the spray wil clean and protect your brushes. It's still necessary though to clean your brushes once a week. Then i did my first order at the Mac online shop(in Holland) ; i bought 1 lashcurler, 1 retractable lippencil and the Mac Fix + skin refreshner and finishing mist.
I also bought a very beautiful and not so expensive eyeshadow palette. The colour range goes from neutrals to bright colours, the palette contains 40 diffrent eye shadow shades and 4 facepowder shades. I'm going to do a 80's look with this palette. I also love my very sweet cupcake tissueholder. Isn't it cute? I was looking for an eyecream with spf for some time now and i'm really with the one i found. It's the Clinique eye cream with spf 20.This eyecream brightens the eye area, i really like the effect of that it makes the eye area look so much lighter. The other facial product i bought is the Le wrap exfolys by Qiriness. It's a radiant buffing mask wich removes the top layer of your skin. It's was adviced for my skin as my skin was very dry with no shine at all. After using it for 4 or 5 times now my face is glowing even without a creme on. If you have the same problem with your skin, i can recommend this buffing mask to you.
A couple of weeks ago the Catrice Coolibri came out. I only bought 1 clear lipgloss from this range, i wasn't that impressed with this make up line. That were all my recent purchases. Hope you enjoyed it.
Cupcake tissueholder
I love this palette neutrals an bright colours in on and it has some face powders too.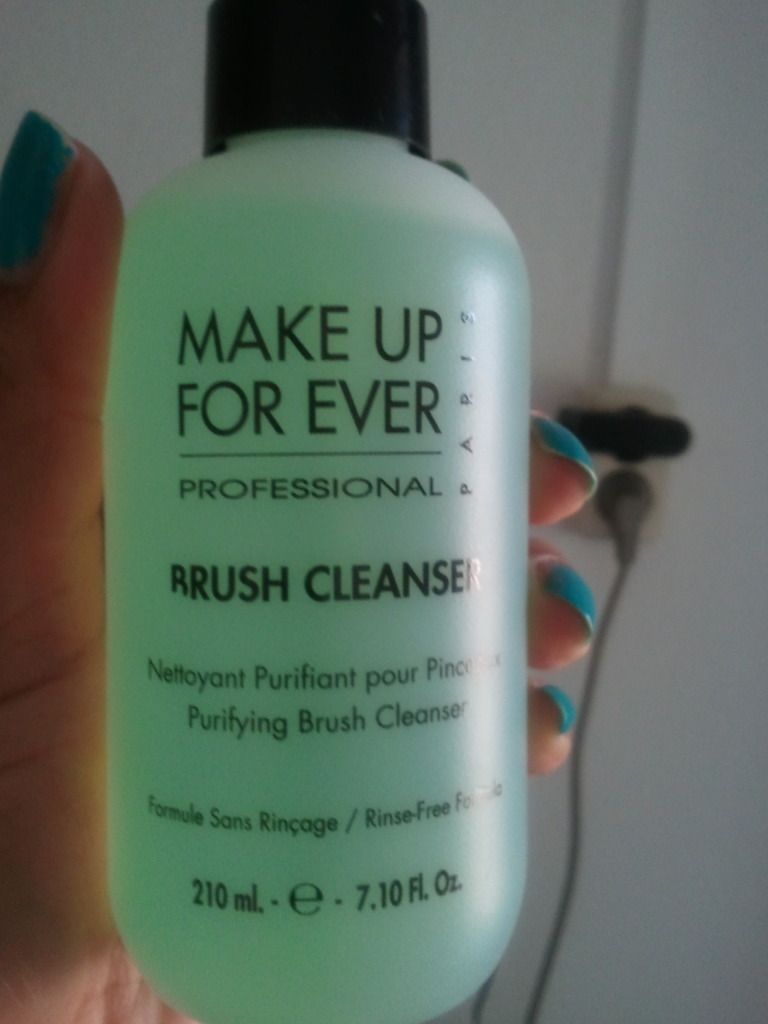 The colours: Turqoise Forever en On and on Bronze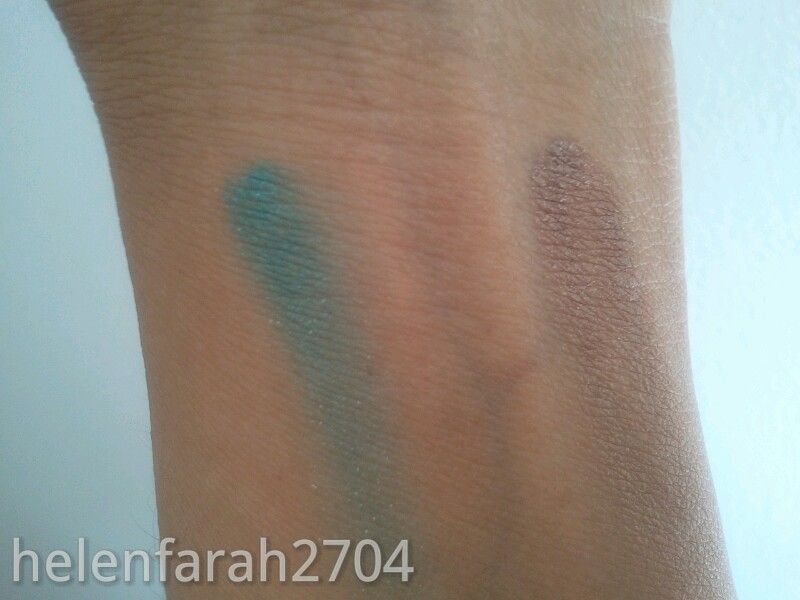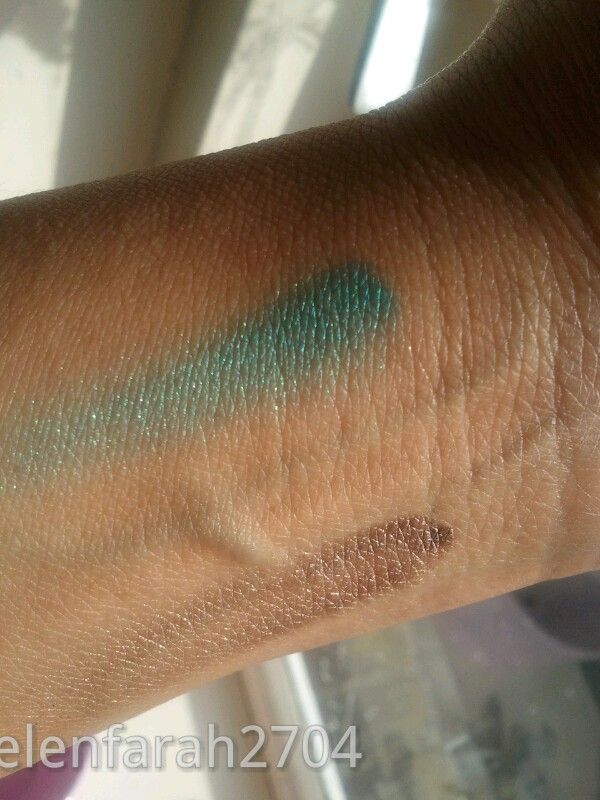 Photo taken in sunlight.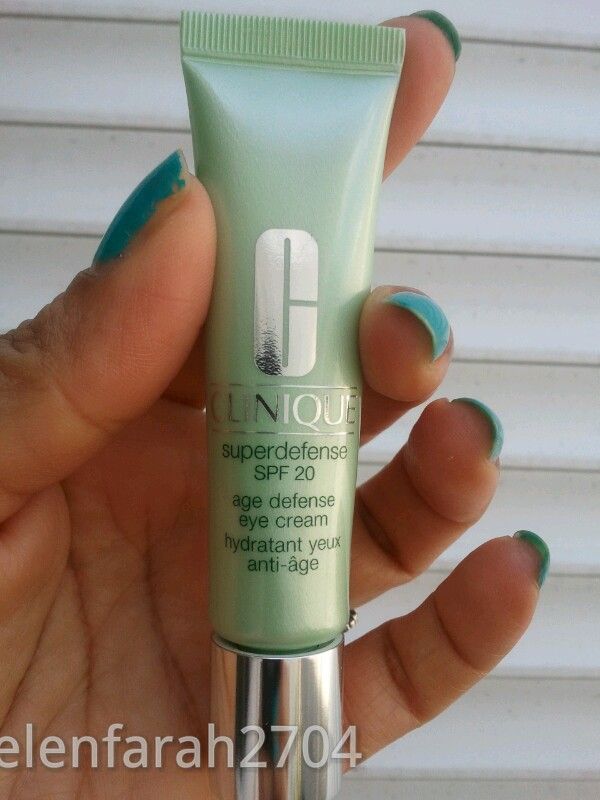 This eyecream has a build in brightening effect.
BB cream Estee Lauder
Een paar weken geleden heb ik bij Ici Paris, een tester gevraagd van de nieuwe BB creme van Estee Lauder.
De verkoopster gaf mij een potje mee waar genoeg in zat om zeker vier keer te gebruiken. Wat mij bij het aanbrengen opviel was dat de kleur iets donkerder was dan van de Garnier Miracle Skin Perfector BB creme. (Garnier Miracle Skin Perfector is in mijn ogen voldoende gepigmenteerd en voldoende egaliserend) Verder viel me op dat deze BB créme voldoende hydrateert en het geeft mijn gezicht een mooie gezonde glans. Zoals je op de foto's ziet is het geen totaaldekking maar dat wil ik ook niet. Ik ben op zoek naar een creme waar ik een mooie egale teint mee krijg.
Omdat ik een klein potje van de BB creme heb kan ik er op dit moment niet meer over zeggen. Ik ervaar deze creme wel als positief mocht je een droge huid hebben dan denk ik dat deze creme niet voedend genoeg is. Maar voor de rest een prima créme die olievrij is én Spf 35 bevat. Ik heb natuurlijk een swatch gemaakt en foto's.
Today i will be doing a small review on the Estee Lauder BB creme. I got a little sample from the Ici Paris drugstore a couple of weeks ago. I tried this product for a couple of times (2 times) and i like this creme so far. It evens out my skin tone without that full coverage look. I also like that it gives my skin a healthy glow. Its not a BB cream that covers your imperfections (to my information a bb cream doesn't do that) but i like the way it evens out the skin tone. The colour of this BB cream is a bit darker than that of the Garnier Miracle Skin Perfector in medium.
Because i have a small jar of the cream i really can't say to much about it. I like this cream for so far, if you have a very dry skin i don't think this cream is for you. For my mixed skin type this cream moisturizes just enough. The Estee Laurder BB creme has Spf 35 and it's oil free. Watch the pics i made.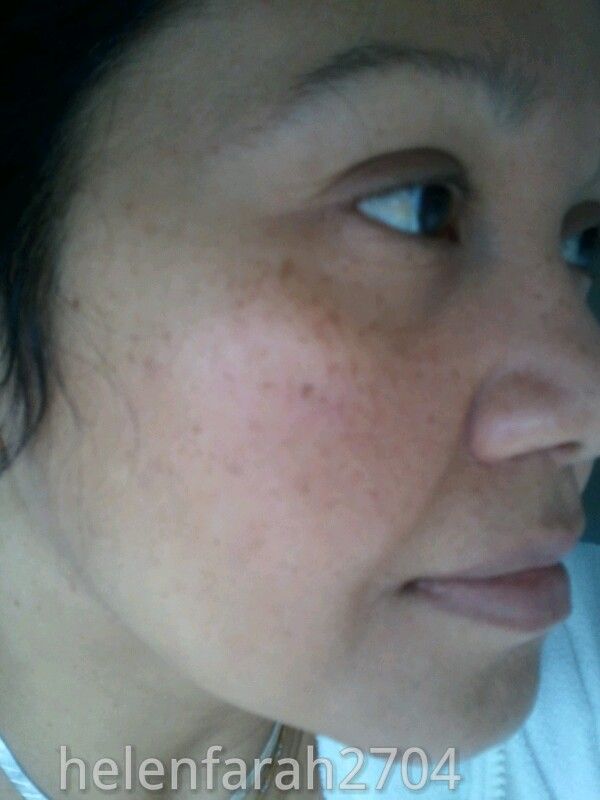 before applying bb cream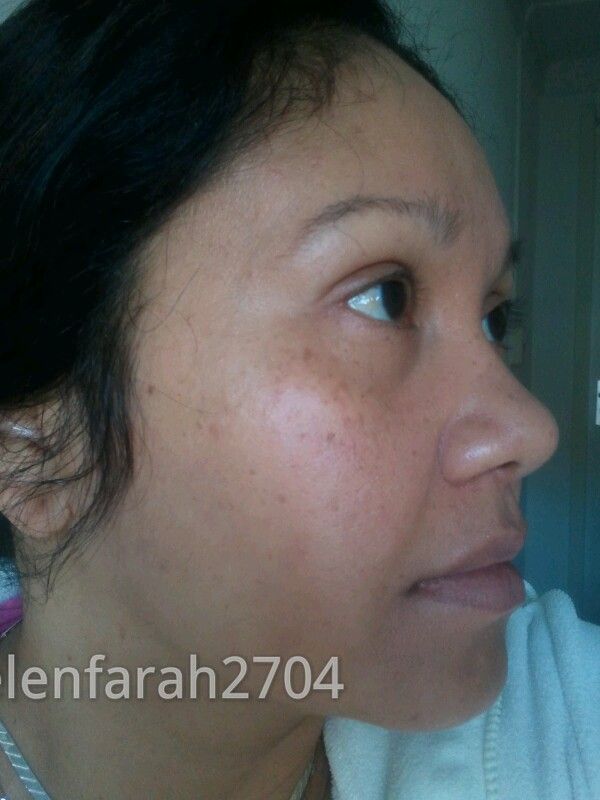 after applying bb cream. you can see the diffrence, i have a more even complexion and a healthy glow on my skin.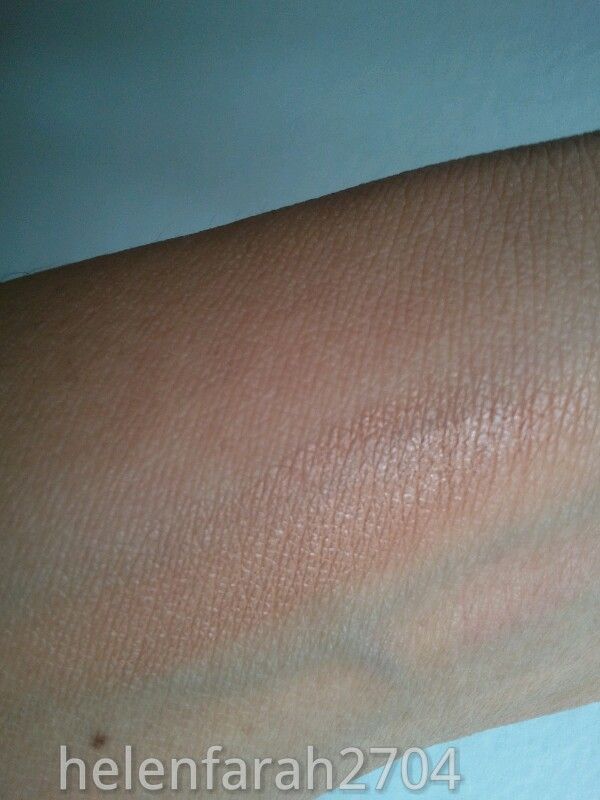 The colour is 02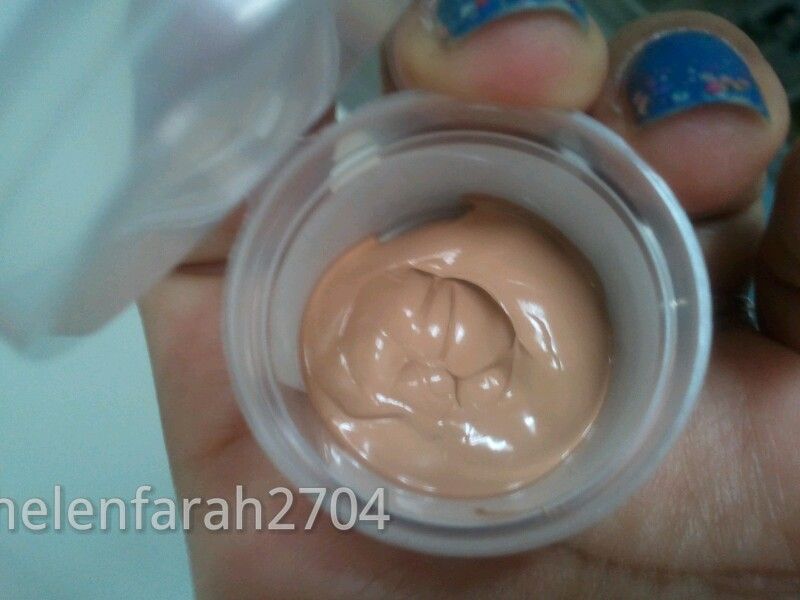 With make up, i'm only wearing Estee Lauder BB creme as a base.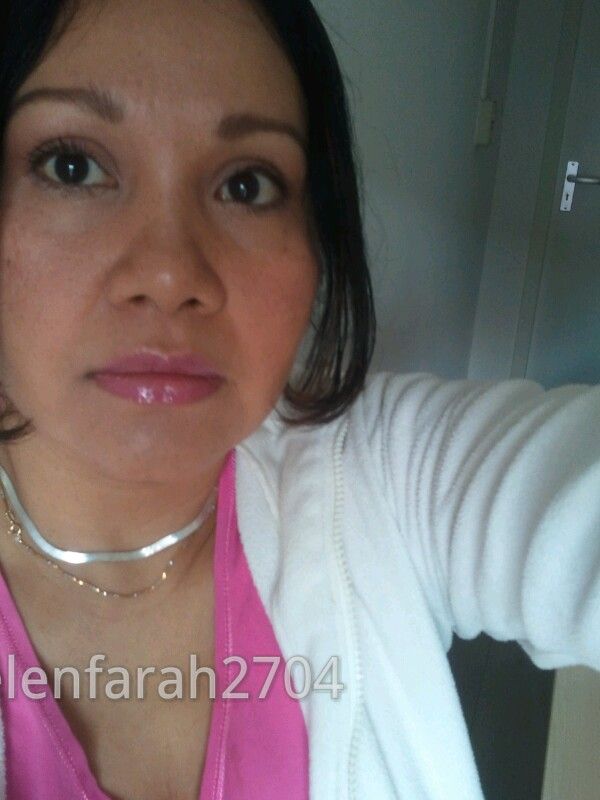 Qiriness Le Wrap Exfolys
Een paar weken geleden heb ik bij Ici Paris een peeling van Qiriness gekocht. Ik was daar om de oogcreme van Clinique (met Spf) te kopen toen ik zag dat deze peeling in de aanbieding was voor € 19,- (kan ook iets minder zijn) besloot ik het meteen te kopen. Ik was toch van plan om een goeie peeling te halen, dacht eraan om die van Clarins te kopen, dus deze aanbieding kwam mooi uit. Ik heb sinds de afgelopen winter een hele doffe huid. Echt niet mooi. Normaal heb ik daar geen last van. Ik denk dat het door medicijnengebruik komt.
Toen ik een paar weken geleden bij de schoonheidsspecialiste was adviseerde zij me om een peeling te gebruiken die het bovenste laagje van de huid eraf weekt. Zo'n peeling werd ook in de salon gebruikt en inderdaad mijn huid zag er weer glanzend uit. De peeling van de salon was erg duur volgens mij iets van € 75,-. Dus besloot ik uit te kijken naar een goedkopere optie en gelukkig liep ik tegen deze aanbieding aan.
Ik heb de peeling drie keer gebruikt en mijn huid is een stuk minder dof. Mijn jukbeenderen en wangen (dat was het dofste gedeelte) glanzen nu weer. Het nadeel is wel dat mijn huid een beetje rood is na de peeling (zie de foto's). Maar het voelt niet branderig of strak aan. De dame van Ici paris raadde mij aan om de peeling ongeveer 10 minuten te laten zitten en het daarna met cirkelvormige bewegingen van de huid af te wrijven. En inderdaad als ik dat gedaan heb en de restanten van mijn gezicht heb gewassen dan begint mijn huid mooi te glanzen. Mijn huid was erg dof dus mocht je daar geen last van hebben, dan werkt de peeling ook goed als je het met een washandje eraf haalt en kun je het een halve minuut laten zitten. Deze peeling mag 1 tot 2 keer per week gebruikt worden. Voor zover zie ik goede resultaten met deze peeling. Een update volgt nog.
Le Wrap Exfolys zit in een mooie lila kleurige tube met zilveren dop. Op de verpakking staat aangegeven dat het produkt hypo allergeen is. Deze ingrediënten bevat Le Wrap Exflolys: aqua (water), paraffin, stearic acid, oriza sativa (rice) starch, caprylic/capric triglyceride, saccharide isomerate, bisabolol, uuum candidum bulb exatract, bacillus perment, triethanolamine, chlorpenesin, stearalkonium, hectorite, disodium edta, propylene, glycol, propylene carbonate, glycerin, peg-8, chlorhexidine digluconate, tocopherol citric acid, sodium citrate, ascorbyl palmitate, ascorbic acid, potasum sorbate, parfum (fragrance), butylphenyl, methylpropional, hexyl cinnamal, linalool, benzyl salicylate.
Zo omschrijft Ici Paris deze peeling: "De enzymatische en mechanische peeling verbetert de microcirculatie, verwijdert onzuiverheden en verwijdert de dode cellen in zachtheid, terwijl een vernieuwing van de cellen wordt gestimuleerd, voor een "nieuwe huid"-effect". Qiriness Le Wrap Exfolys belooft een heldere teint, zonder oneffenheden. Dit scrubmasker werkt als een enzymatische peeling dat de dode huidcellen doet schilferen en de poriën vrij maakt van onzuiverheden, waarbij tevens de celvernieuwing gestimuleerd wordt. Uniek is de crème-textuur van de Wrap Exfolys: geen korrels, dus geen irritatie en microwondjes!"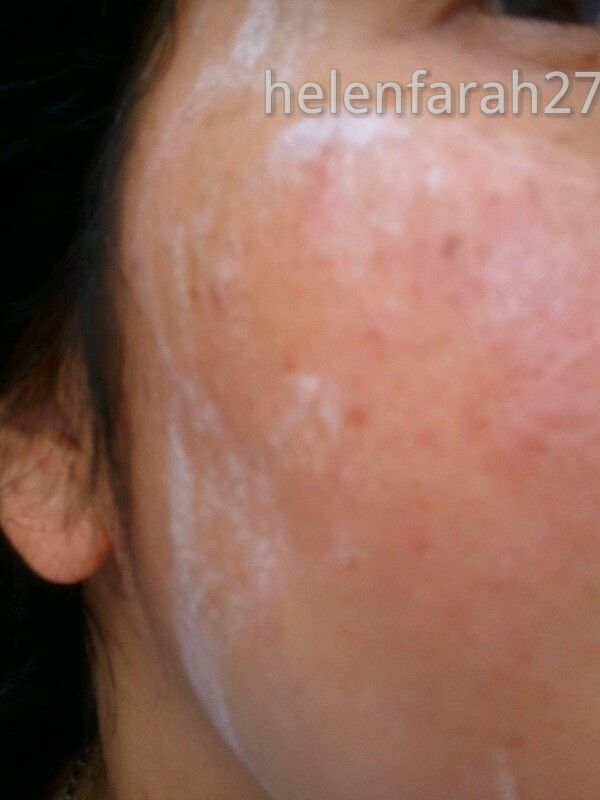 Zo ziet de peeling eruit als je het op de huid smeert.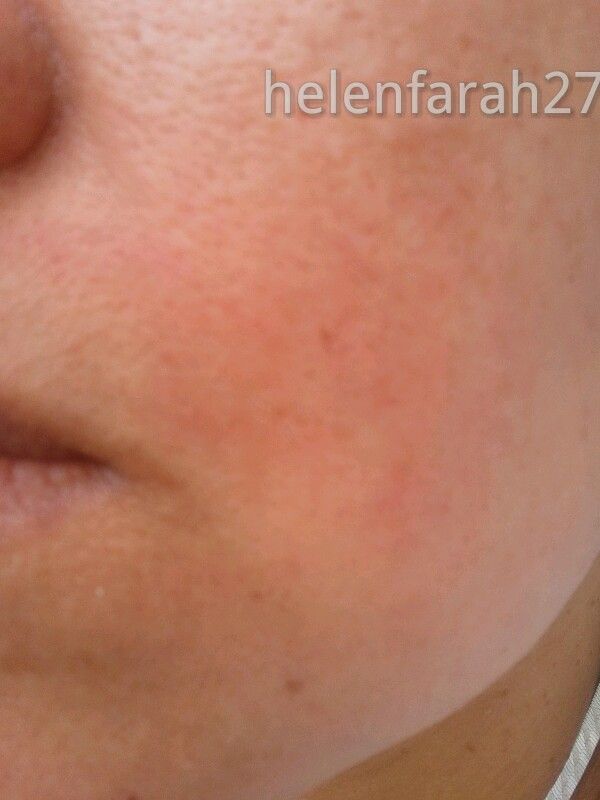 op de onderste foto is duidelijk te zien dat mijn huid weer glanst, ik heb hier nog geen creme op mijn gezicht. Ik heb helaas geen foto's van hoe het er van tevoren uitzag :-(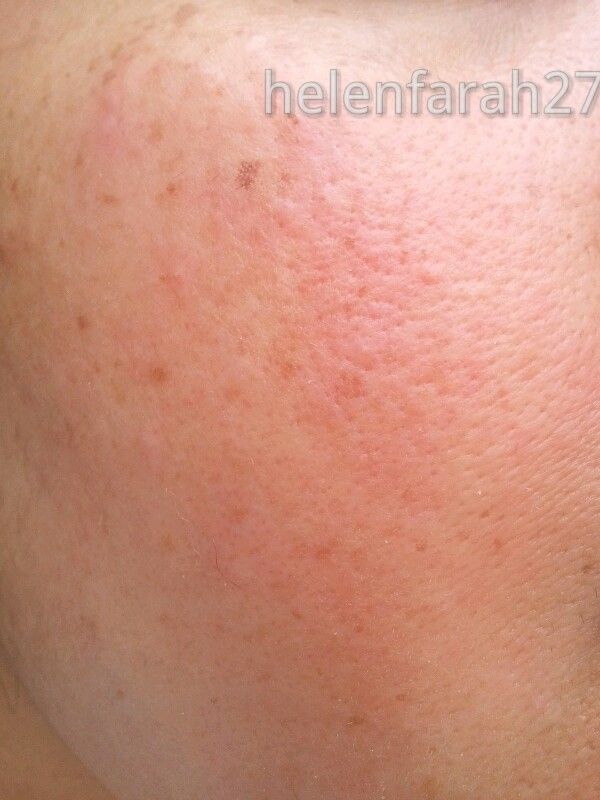 Eye make up using Maybelline Color Tattoos
Vandaag een oog make up look met de Maybelline 24 hr Color Tattoos. Ik heb de kleuren 40 Permanent Taupe en 05 Eternal Gold gebruikt. Beide zijn hele mooie kleuren. De Eternal Gold is een shimmer kleur en Permanent Taupe is een matte kleur. Ik heb in totaal vier Color Tattoos, de twee andere kleuren zijn 20 Turquoise Fever en 45 Infinite White, en deze kleuren vond ik het beste bij elkaar passen. Op een warme dag, zoals vandaag, gebruik ik liever zo weinig mogelijk make up. Maar als ik dan toch oogschaduw gebruik dan gaat mijn voorkeur naar een creme oogschaduw. Het nadeel van een creme oogschaduw is dat je het een paar keer per dan moet aanbrengen want de kleur "smelt" als het ware. Het grote voordeel van de Color Tattoos is dat ze langer blijven zitten dan de gemiddelde creme oogschaduw (volgens Maybelline 24 uur).
Ik heb de kleuren aangebracht met een spons applicator door ze heel lichtjes op de huid te deppen. Vooral met de Eternal Gold heb ik lichtjes gedept zodat de kleur mooi overgebracht werd. Ik wilde niet dat het goud de look teveel overheerste. Ik heb al gehoord dat je deze oogschaduws het beste met je vingers kan aanbrengen, ook dit heb ik geprobeerd. Het resultaat was wel mooi maar het nadeel was dat ik ook oogschaduw onder mijn ogen kreeg. Dit komt waarschijnlijk omdat ik niet zulke grote ogen heb. Dus daarom heb ik vandaag een oogschaduw applicator gebruikt. Ik heb als het ware de laagjes opgebouwd tot ik ze helder/intens genoeg vond. Zelf ben ik heel tevreden met het resultaat maar laat maar weten wat je ervan vindt.
Today i've created an eye make up look with my Maybelline 24 hr Color Tattoos. I used the colors 40 Permanent Taupe and 05 Eternal Gold. Both colours are beautiful Eternal Gold is a shimmery gold colour and Permanent Taupe is a matte taupe colour. I own four Color Tattoos, the two other colours i own are 20Turquoise Fever and 45 Infinite White, and i think of the colours i own these two fit great together. On a warm and sunny day like today i love to wear as less make up as possible. So when i'm wearing eyeshadow i always wear a creamy eyeshadow. When you wear a creme eyeshadow you often have to re-apply because it seems like the shadow melts away. With the Color Tattoos you won't be having that problem because these eyeshadows are long wearing (24 hours according to Maybelline) .
I've applied the eyeshadows with an sponge applicator, by gently dabbing it on to the eye. Especially with the Eternal Gold i dabbed gently to transfer the colour in a soft but beautiful way. I didn't want the gold to overrule. the whole look. I heard the best way to apply these colours is to use your fingers. I've already tried that, but the problem was i got eyeshadow under my eyes too. I think that's because my eyes are very small. Thats why i chose to use an applicator. I gently build up the layers untill i was satisfied with the intensity of the colour. I'm content with the way this look turned out. Let me know what you think about this look.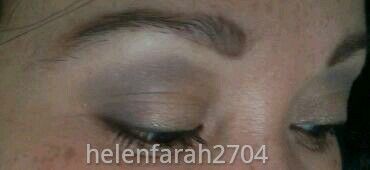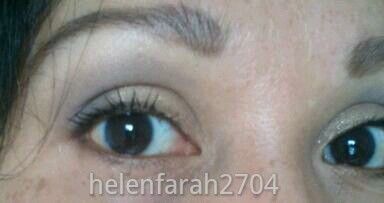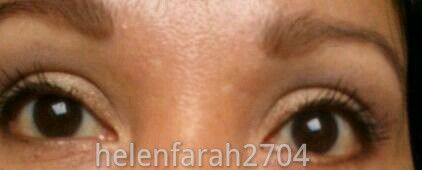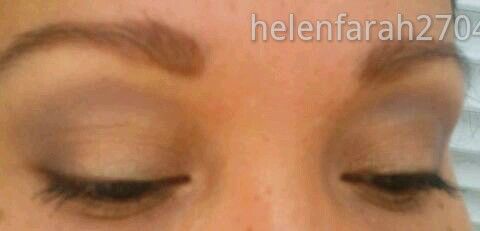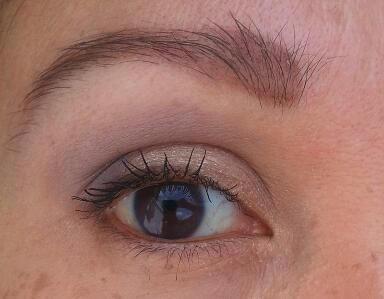 N.O.T.D.
My version of the ombre nails. I used the following polishes: Confetti nr 071 Belle of the ball/Essence multi dimension nr 72 Found my love/Essence multi dimension nr 68 Perfectly true. As a topcoat i used Catrices Million Styles Top Coat in Million dollar baby.
For layering the polish i used an eye makeup applicator. I put on a white polish first as a base. Then i put some polish on the aplicator and sponged it on my nails. Its an easy technique to work with. Also a good technique to use for a french nail.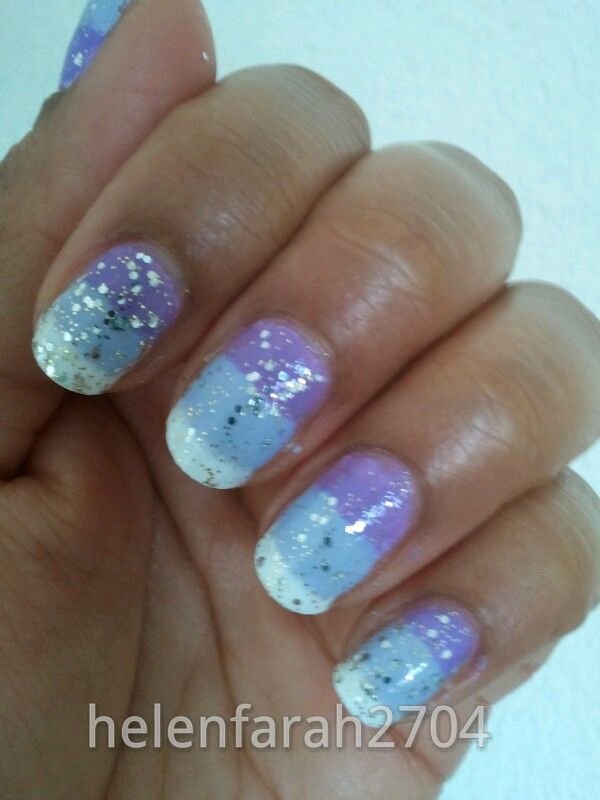 My Nyx make up
Vandaag een stukje over de make up van Nyx. Nyx is een amerikaans cosmeticamerk dat in Nederland alleen via webwinkels te verkrijgen is. Alhoewel ik gehoord heb dat je dit merk nu ook bij Douglas kunt kopen. Ik bestel mijn Nyx producten vaak via www.boozyshop.nl. http://www.nyxcosmetics.com/shop/ is de officiële webwinkel van Nyx.
Nyx is een low budget cosmeticamerk van verbazend goede kwaliteit. De pigmentatie van de oogschaduws,blushers en lipgloss is zeer goed. Ik heb 2 oogschaduws Dallas en Brown. Zie de swatches hieronder. Dallas is een zacht roze kleur, dat eigenlijk iets te flets is voor mijn huidskleur. Brown is natuurlijk een mooie bruine kleur met (vind ik) een ietwat groene ondertoon. Deze kleur past perfect bij mijn huidskleur, ik denk dat deze kleur bij elke huidskleur staat. De single oogschaduw van Nyx kost € 5,95 bij Boozyshop. En je hebt de keuze uit 140 kleuren!
Nyx Make up
Today i will be talking about some Nyx cosmetics i recently purchased. Nyx is an American cosmetic brand thats only been sold through webshops here in Holland. I order my Nyx make up through www. boozyshop.nl. The official website of Nyx is http://www.nyxcosmetics.com/shop/ .
Nyx is an low budget cosmetic brand that has an amazingly good quality. The pigmentation of the shadows, blushes and lip glosses are very good. I own 2 Nyx single eyeshadows. One in Dallas a very light (almost pale) pink colour. And one in Brown a very beautiful colour that has a bit of a green undertone. It is an amazig brown colour that will look good on every skin tone.The only downside is that the substance is powdery. I paid € 5,95 for one eyeshadow. If you order dircetly from the Nyx website one singe eyeshadow costs $ 5,00.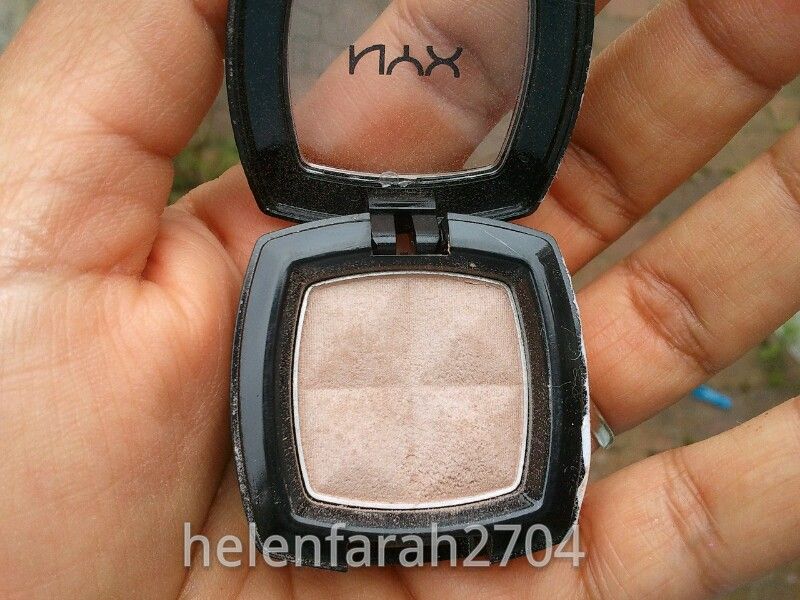 Dallas
Brown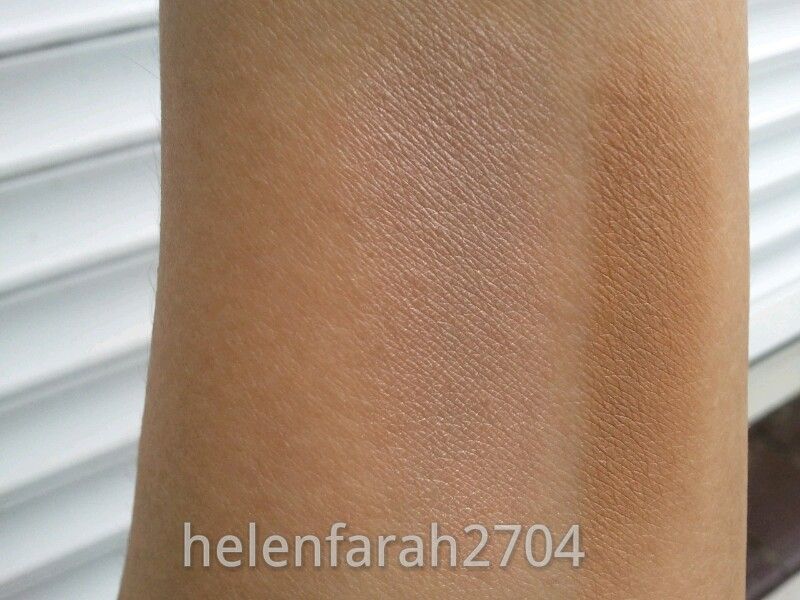 Blush
Ik heb 1 Nyx blush in de kleur Natural. Dit is een mooie zachtroze kleur. Een mooi fris ogende blush. De substantie is erg poederachtig dat is wel jammer. Als je iets te veel blush aanbrengt, dan krijg je zo'n poederlaag op je gezicht. Goed blenden dus! De powder blush kost € 6,99 bij Boozyshop en je kunt kiezen uit 24 verschillende kleuren.
I have one Nyx blush in the colour Natural. This is a beautiful soft pink that will give your cheeks that fresh healthy look. The substance of the blush is also very powdery so be sure to blend after applying. I paid € 6,99 for this blush. On the Nyx website it costs $ 6,00.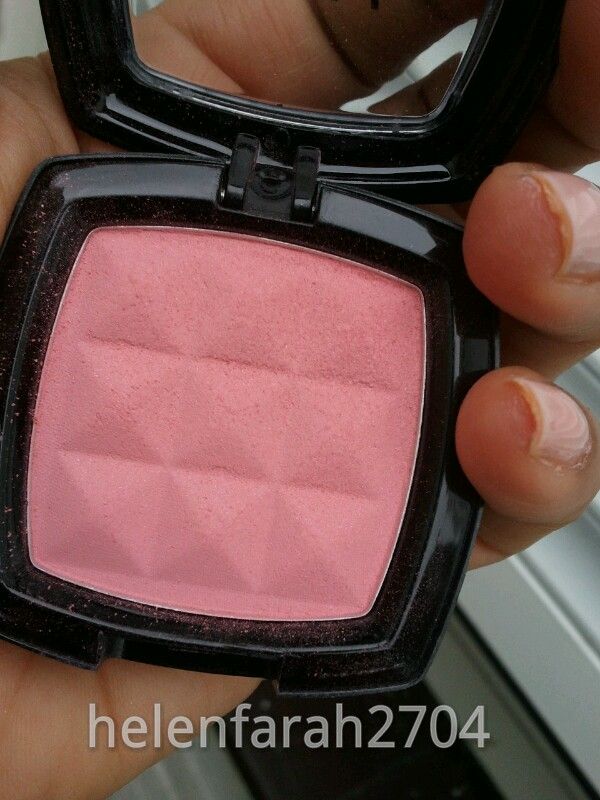 Lipgloss
Ik heb 2 glossjes van Nyx. De kleur Beige is een zacht oud roze kleur en is goed gepigmenteerd. Ik vind dat je het kunt vergelijken met de glosjes van Beyu zonder het plumbing effect. De kleur Burgundy is een donker rode kleur. Ik vind het meer een kleur voor het najaar en de winter. Deze kleur is ook sterk gepigmenteerd en heeft qua kleur hetzelfde effect als een lipstick. Een Nyx lipgloss kost € 5,95 bij Boozyshop. Je keuze uit 64 verschillende kleuren.
I own two Nyx lipglosses. One in the colour Beige that is a bit of a pinkish colour. I also have one in the colour Burgundy. That is a deep red colour more suitable for fall and winter. The pigmentation of these glosses is so good you can almost commpare it to the pigmentation of a lipstick. I paid € 5,95 for one lipgloss. On the Nyx website the price is $ 5,50.
Beige
Burgundy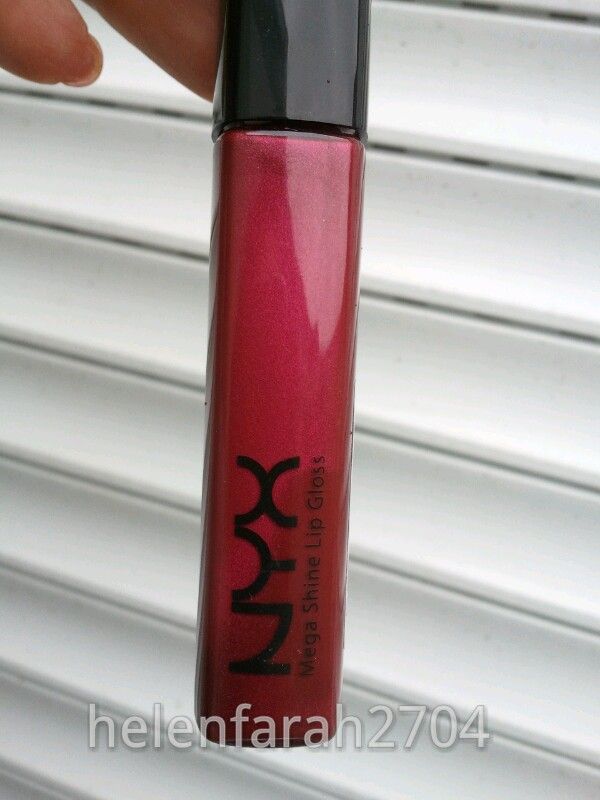 Burgundy
Jumbo Eye Pencils
Hiervan heb ik er twee. Een in de kleur Horse Raddish(groen) en een in de kleur Electric Blue. Twee prachtige kleuren die je oogmake up nét dat beetje extra kunnen meegeven. Ik gebruik ze vooral onder de onderste wimperlijn en in mijn ooghoeken. Je kunt ze ook als basis gebruiken voor je oogschaduw zodat je oogschaduw langer blijft zitten. Je hebt keuze uit 25 verschillende kleuren bij Boozyshop en 1 Jumbo Eye Pencil kost € 3,59.
I own two of the Jumbo Eye Pencils. The colours i have are: Horse Raddish(green) and Electric Blue. Two bright and beautiful colours to give your eye make up that bit extra. I use them under my lower lashline and in the inner teardot of the eye. You can also use them as a base for your eyeshadow, to make your eyeshadow stay on for a long time. I bought the eye pencils for € 3,59 each. On the Nyx website it costs $ 4,50.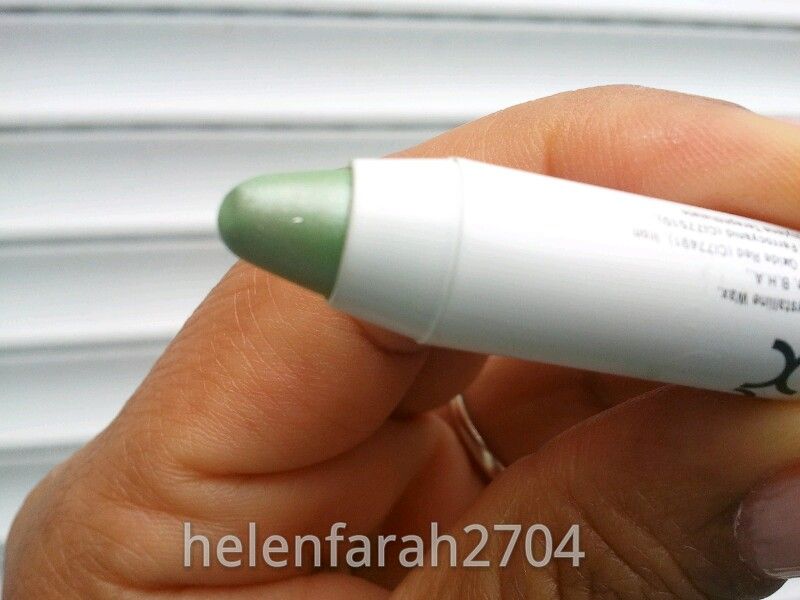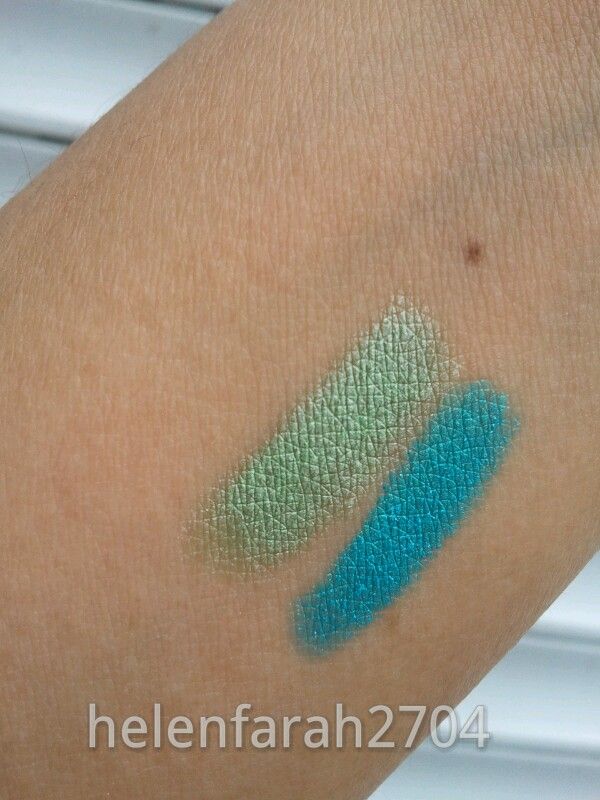 Round lipstick
De round lipsticks van Nyx zijn welbekend (zie youtube). Ik heb er één aangeschaft in de kleur Indian Pink. De kleur is een mix tussen coral en zachtroze. Echt prachtig! Een parelmoerlipstick die ideaal is voor de lente en de zomer. De round top lipstick kost € 2,75 bij Boozy shop.
The Nyx round lipstick are famous on youtube. I ordered one in the colour Indian Pink. The colour is a mix between coral and soft pink and it has a bit of shimmer in it. A beutiful colour for spring and summer. I paid € 2,75 for the lipstick. On the Nyx website it costs $ 4,00.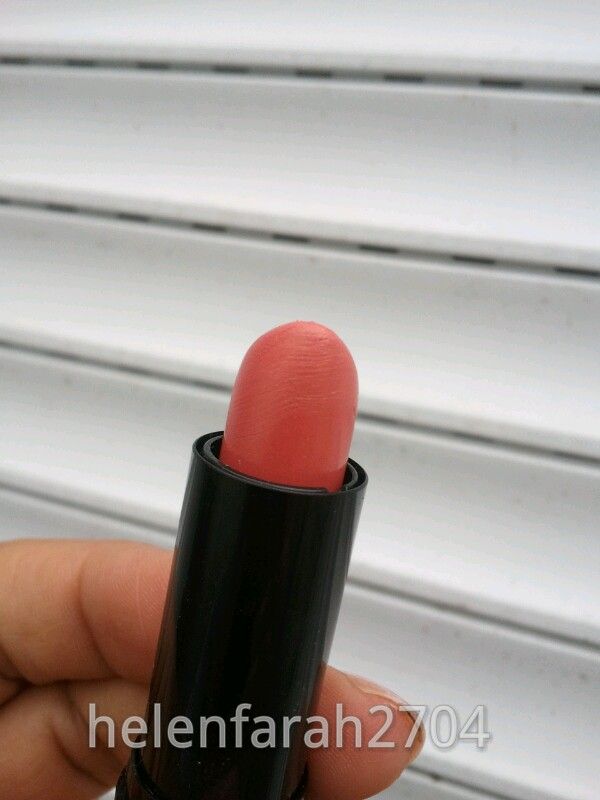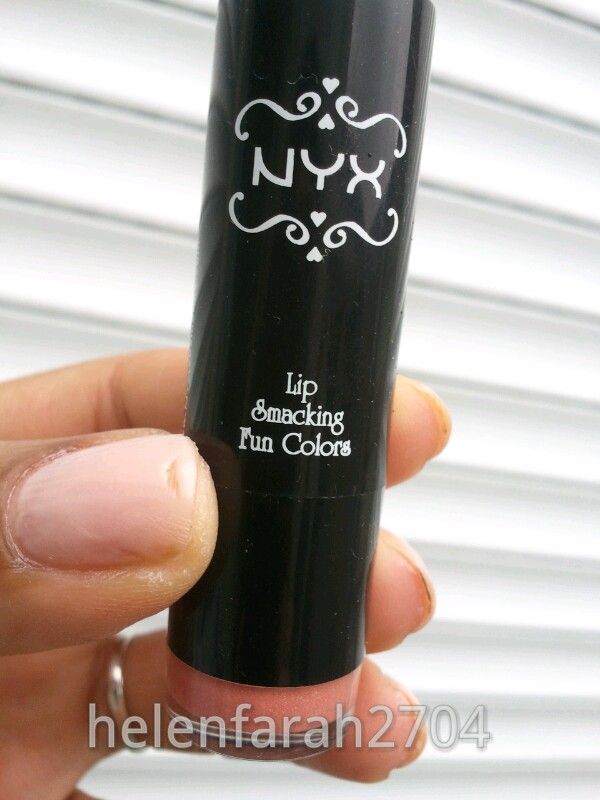 Dit waren mijn Nyx make up produkten. Ik heb er nog niet zoveel maar ik ben wel erg tevreden met de kwaliteit. Ik vind de kwaliteit prijsverhouding bij Nyx erg goed. Mijn Nyx stash zal zich de komende tijd zeker gaan uitbreiden.
These are my Nyx make up products. I love the quality and the price of these cosmetics. My Nyx stash will certainly grow the coming year.
Eye make up Gosh palette and Rimmel London palette.
Vandaag laat ik even zien hoe de combinatie van bruin met blauwe oogschaduw eruit ziet. In mijn juni favorieten vertelde ik dat ik het palet van Gosh (neutrale kleuren) mix met het palet van Rimmel London (blauw). Ook even een voorbeeld van hoe mijn wimpers eruit zien zonder Great Lash van Maybelline en ná Great Lash. Wat een verschil hé, ik heb echt bijna geen wimpers.
Maar dit is het eindresultaat. Laat me even weten wat je ervan vindt. Sorry dat sommige foto's onscherp zijn, ben nog in de leer ;). Oja op mijn wangen heb ik Nyx 07 Natural en op mijn lippen ook Nyx LG129 Beige. Deze lipgloss ruikt echt heerlijk, naar bubblegum.
Today í'm gonna show you what the combi of brown and blue looks like. In my june favourites i was tellin you that i mixed the colours of the Gosh palette (neutrals) and Rimmel London palette (maritime). So this is the result. Also een example of how my lashes look like without mascara and after i use mascara (Maybelline Great Lash).
On my cheeks i have Nyx 07 Natural en on the lips Nyx LG129 Beige. Sorry for the blurry pics but i'm just learning how to photograph myself ;).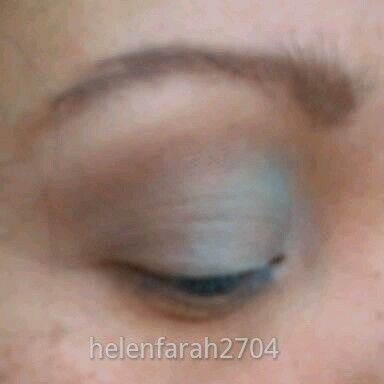 Zonder mascara.
Without mascara.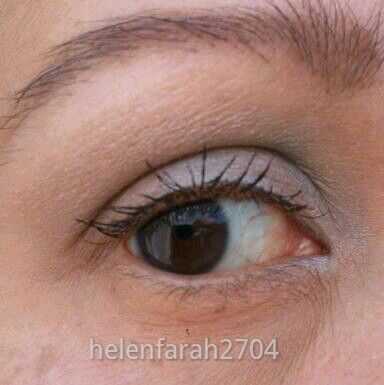 Met Great Lash.
After applying Great Lash.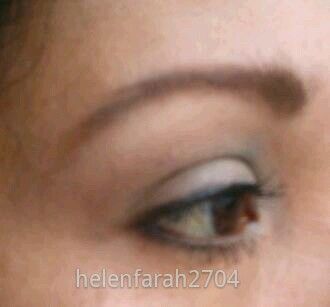 Hier hebben mijn onderste wimpers ook een laagje mascara.
On this pic i also wear mascara on the bottom lashes.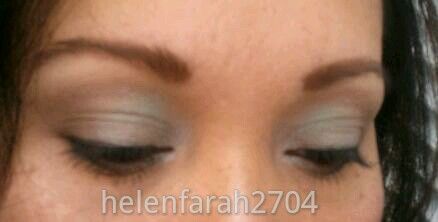 Het totale plaatje.
And this is the result.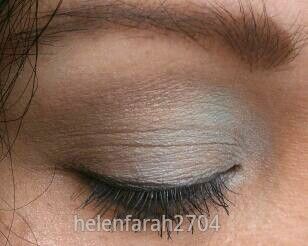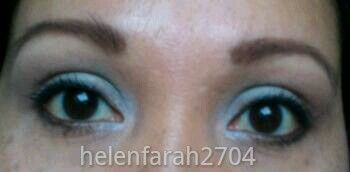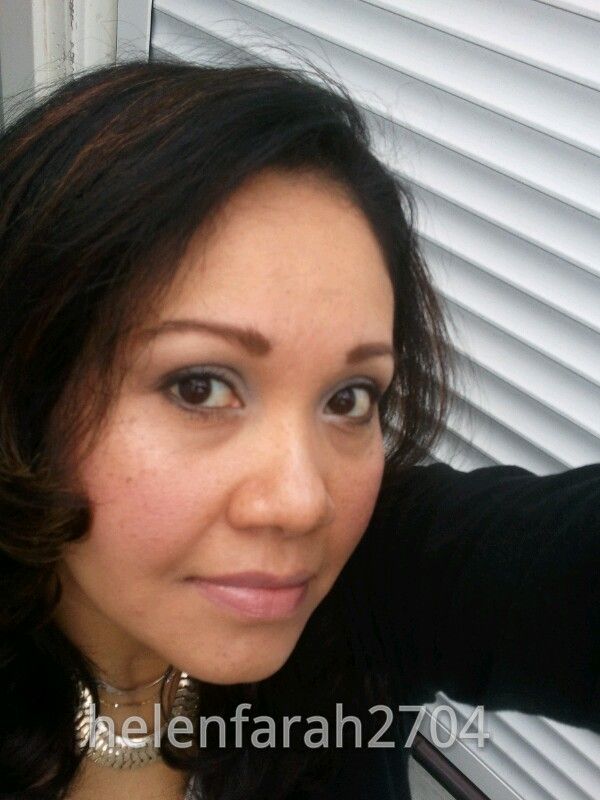 Juni favorieten / June favourites
Vandaag een stukje over mijn favorieten van de maand juni. Juni is bijna voorbij (gaat zo snel allemaal) helaas hebben we niet zo veel zon gehad deze maand. Hopelijk brengt de maand juli ons hele zonnige dagen. Gelukkig is er altijd nog make up.
Mijn favorieten van de maand juni:
1 De Garnier BB cream Miracle skin Perfector. Een verrassend fijne dagcreme. Het zat in de glossybox van mei en ik ben zeer tevreden over dit product. De BB creme van Garnier is al een tijdje te koop in Nederland. Zelf ben ik niet zo meegegaan in de hype ten eerstee omdat ik meestal huidverzorgings producten van Clinique gebruik. De volgende reden is dat ik sinds vorig jaar de High Protection creme met Spf 30 van Dr. Brandt gebruik. Dat is ook een soort BB creme. Maar terug naar de BB creme van Garnier het is erg voedend en ook de kleur is fantastisch. Ik gebruik geen foundation daarom vind ik de BB clreme heel fijn. De kleur past perfect bij mijn teint. De creme is licht tot medium dekkend en je krijgt er een mooie egale teint van. Deze BB creme is echt een aanrader.
Today i will reviewing my June favourites. The month of June hasn't brought us much sunshine, sadly. But we still have make up to bring some sun onto our faces ;-).
Junes favourites:
1. My Garnier BB cream Miracle skin Perfector. The creme i received in my Glossybox of the month May. This BB creme is surprisingly good. It's moisturizing and gives my face a nice overall coverage. Garnier BB cream is around for a while, i guess since one year now. Somehow i never felt the need to buy a BB creme because i mostly use Clinique products for my face. Last year someone introduced me to Dr. Brandt's High Protection creme with Spf 30. Thats like a BB creme too. But the Garnier BB creme is so moisturizing my skin feels really hydrated after using it. It has a light to medium coverage for me thats good (i seldom use foundation) and it's hydrating. So thats all i need to get through the day.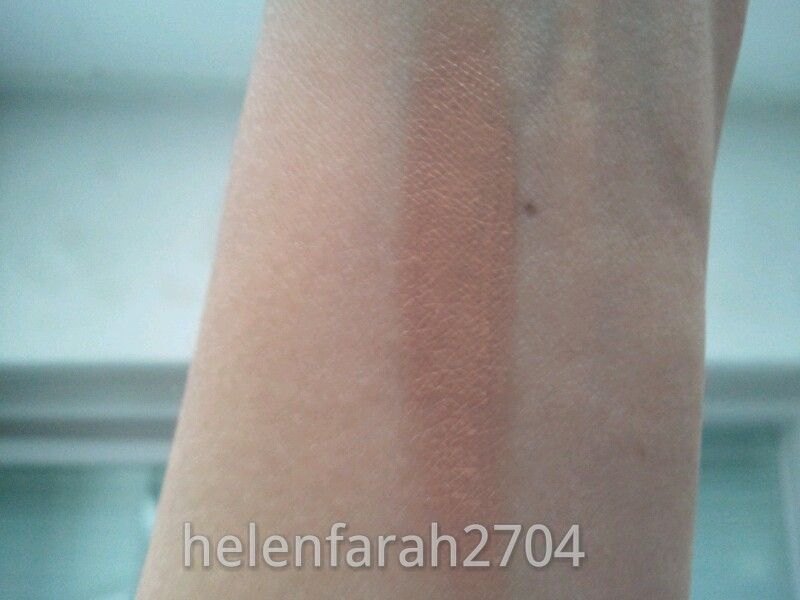 2. De Lumi Magique Pure Light Primer van Loreal. Deze make up primer heb ik al een maand of 2 in huis maar ik had het nog niet gebruikt. Ik heb het gekocht tijdens de 1+1 gratis aktie van het Kruidvat. Via Google en You tube heb ik opgezocht hoe je dit product het beste kan gebruiken. Het werkt het beste als je het met je foundation (of BB creme) mengt, je huid krijgt dan die mooie gezonde gloed. Je kunt het ook na je foundation of creme gebruiken als higlighter. Ik heb het inmiddels op beide manieren gebruikt en ook over dit produkt ben ik erg tevreden. Het geeft een mooie gloed aan je huid als je het met je foundation of creme mengt. Ook als highlihter is het perfect. Je jukbeenderen springen er op een mooie (maar niet overdreven) manier uit. Dit produkt is ook een aanrader.
2. Lumi Magique Pure Light Primer by Loreal. I bought this product about two months ago but i never used it. After some research (google) and watching You tube i knew what was the best way to use this primer. There are two ways to use Lumi Magique. You can mix it with your foundation or BB creme. This will give your face that beautiful glow. The other way is to use it as a highlighter. I've used the product in both ways and i'm so satisfied with it. When u use Lumi as a highligter, it will make your cheekbones pop so beautiful.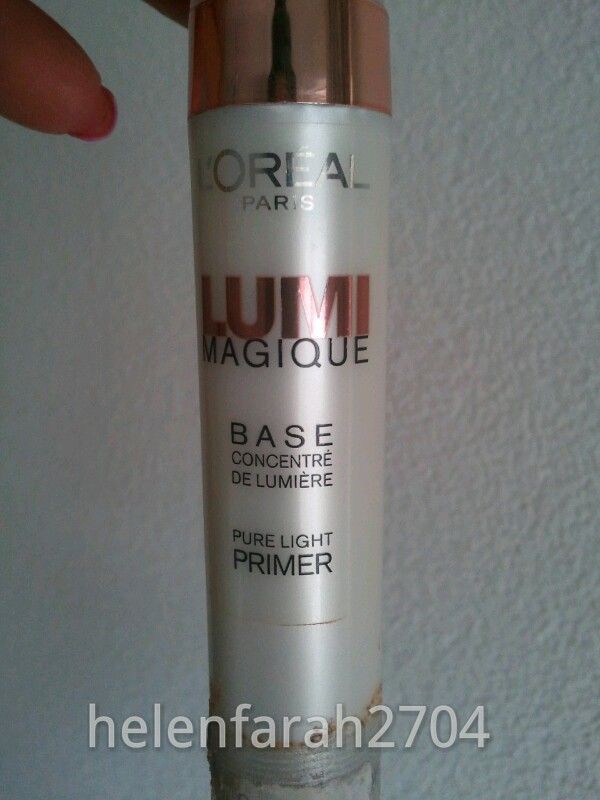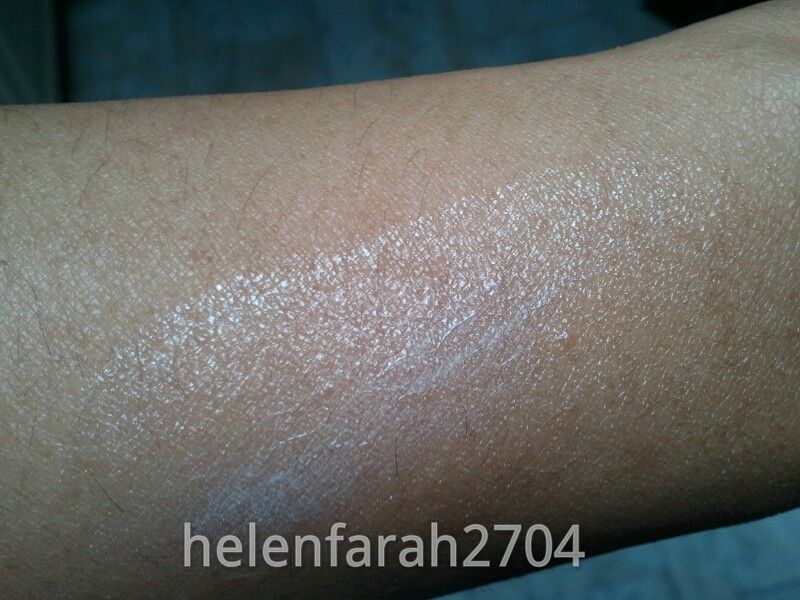 3. De Loreal Studio Secrets Proffessional primer. Ook dit produkt heb ik via de Glossybox (februari) gekregen. Ik heb het meteen gebruikt maar was er toen niet zo enthousiast over. Waarom? Ik vond dat als ik het over mijn hele gezicht gebruikte, mijn huid een bleke/witte ondertoon kreeg. Deze maand heb ik het alleen op mijn T zone en wangen gebruikt omdat ik daar grove poriën heb. En ik moet zeggen de grove poriën zijn met deze primer echt een stuk minder zichtbaar. Ook op mijn oogleden is deze primer een succes want het zorgt ervoor dat mijn oog make up echt de hele dag goed blijft. Voorheen gebruikte ik een eyeshadow primer van Beyu maar daarmee zagen mijn oogleden er perkamentachtig uit. Niet mooi dus, terwijl ik echt geen rimpels heb. Met deze primer op mijn oogleden blijven ze mooi egaal én de make up blijft goed zitten.
3. The Loreal Studio Secrets Proffessional primer. This is also a product i received in my Glossybox (February). At first i didn't like this primer because of the white sheer it gave my complexion. Now i only use it on my t-zone and on my eyelids. I have large pores and Loreal Studio Secrets minimizes my large pores. So thats a big plus. I also use it on my eyelids as a primer, which works wonderful. My eye make up stays on for the entire day.
4. Het oogschaduw kwartet van Gosh. Ook dit heb ik tijdens de 1+1 gratis aktie van het Kruidvat gekocht. Ik had het al 2 maanden in huis. Een paar weken geleden kwam ik erachter dat ik dit paletje nog niet had gebruikt. Dus meteen opdoen maar. De kleuren zijn verrassend mooi, echt mooie naturel kleuren. Totaal mijn smaak want ik hou van nudes. Wat het nummer van dit palet is weet ik niet. Samen met het verwijderen van de diefstal beveiliging is ook het etiket verwijderd. Maar hieronder vind je 2 foto's van het palet. Echt prachtige kleuren!
4. Gosh eyeshadow quartet. I bough this palet during a bogo (buy 1 get 1 half off). This was about two months ago and i forgot all about it. I discored the quartet a few weeks ago in my drawer and yes i had to put it on. This palet has beautiful neutral colours and i love neutrals. Sadly i can't tell you what the name or number of this palet is. When removing the anti shoplifting sticker it removed that info also.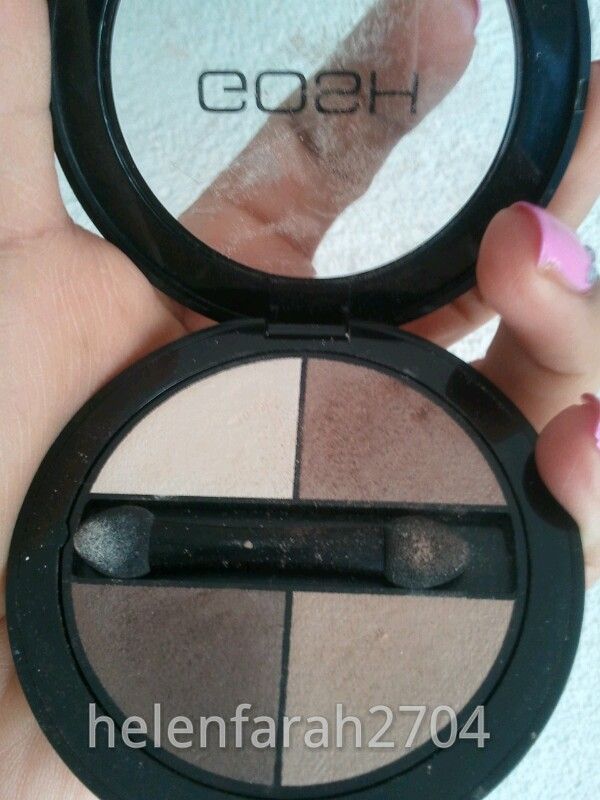 5. Het oogschaduw trio van Rimmel. Ook gekocht tijdens de 1 + 1 aktie. Dit palet is de 700 Maritime. Met mooie (zee) blauwe kleuren. Ja echt heel zomers. Ik gebruik dit palet vaak in combinatie met het palet van Gosh. Ik gebruik de blauwe (onderste kleur van het palet) op de oogleden. In de Arcadeboog gebruik ik dan de donkerste kleur van boven uit het Gosh palet. Echt een supermooie combinatie. Op de ooghoeken van de binnenzijde van het oog gebruik ik blauwe kleur van linksboven. Onder de wenkbrauw doe ik de lichtste kleur van boven. Een hele mooie zomerse combinatie.
5. My Rimmel London eyeshadow trio in 700 Maritime. This trio has really beautiful seablue colors. It has summer written all over it. I use this trio in combination with the Gosh palet. I put the blue (bottom colour) on my eyelids and the darkest colour (from the top) of the Gosh palet in my crease. The lightest colour (from the top) of the Gosh palet i use as a highlighter. This is a very summery combination and i love it.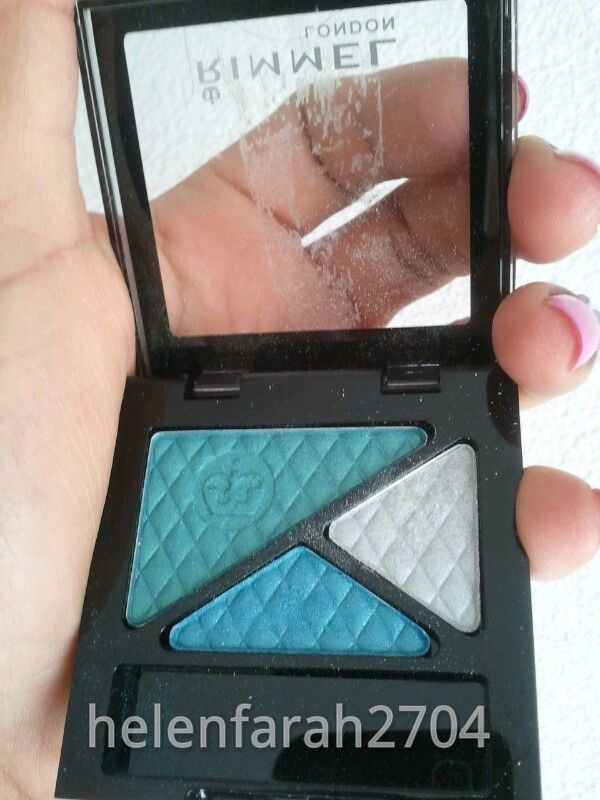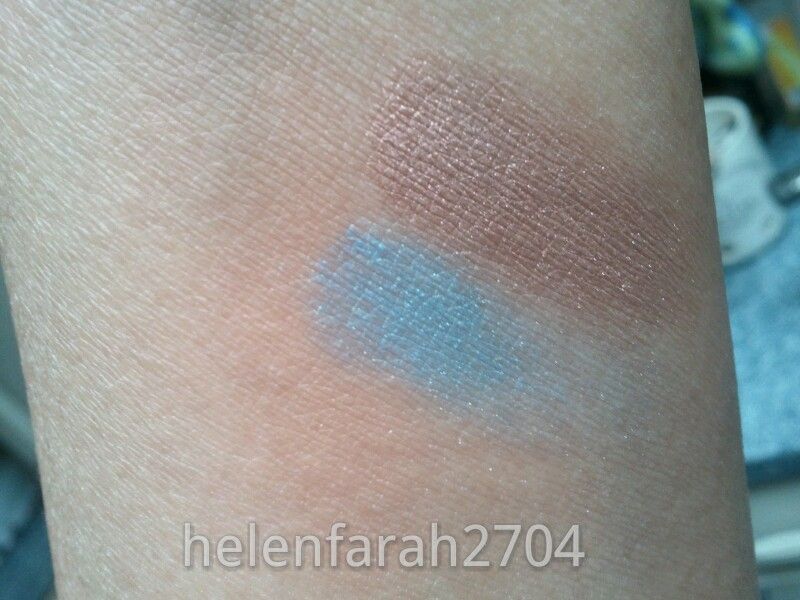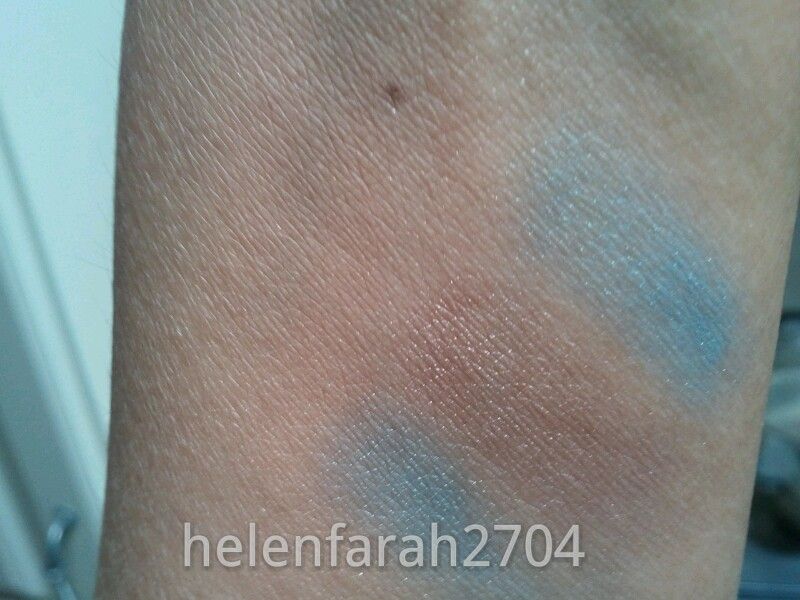 6. De Miracle touch creamy blush van Max Factor. Een hele mooie roze cream blush. Ideaal voor de zonnige dagen. Als het warm is gebruik altijd een cream blush. Ik heb dan geen zin in poeder rouge omdat ik dat cremeblush er dan net iets natuurlijker uitziet. Dat komt omdat ik dan weinig (oog) make up op heb. Op de foto ziet de kleur er erg rood uit maar ik verzeker je op de wangen is het prachtig roze.
6. The Miracle touch creamy blush by Max Factor. A really beautiful bright pink cream blush. Perfect for sunny days when i'm wearing less make up. I always use a cream blush during summer, powder blushes are too heavy (i think) during those days. The colour looks a bit reddish on the pic, but it's really pink. And it looks beautiful on the cheeks.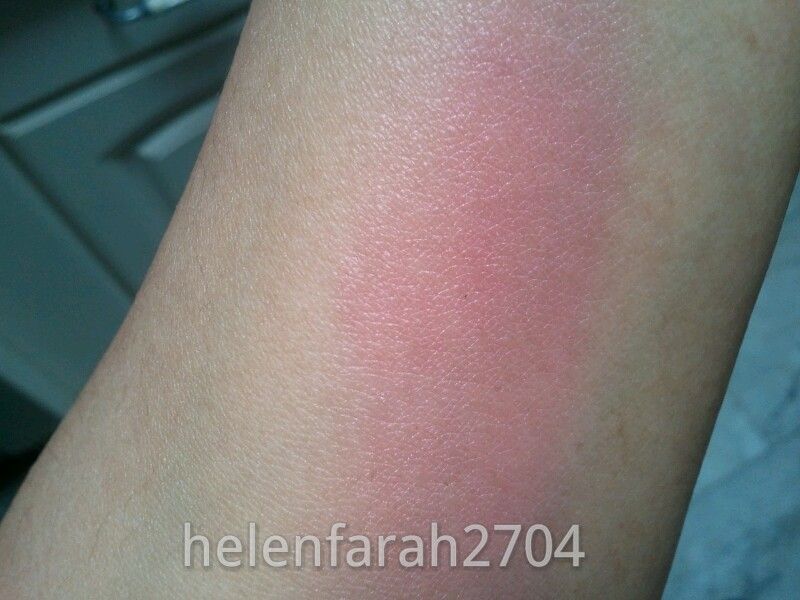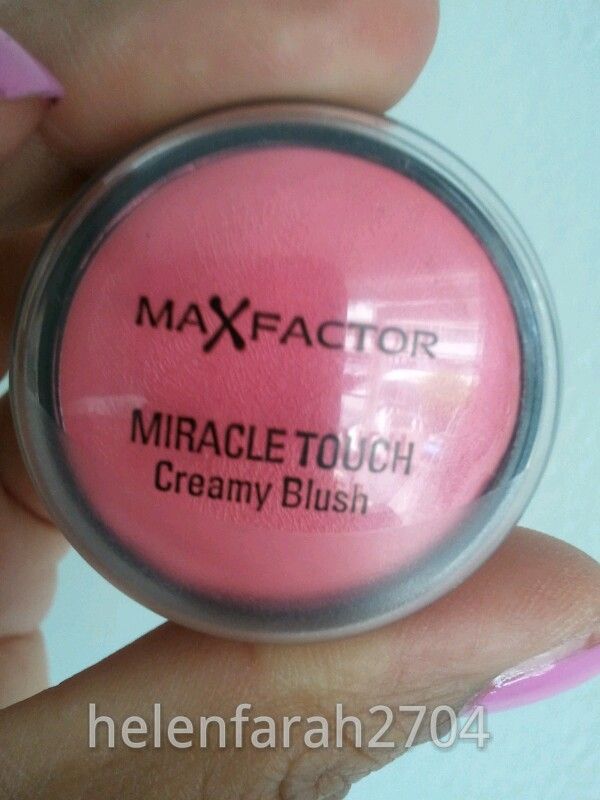 7. De Great lash mascara van Maybelline. Deze mascara gebruik ik sinds twee weken en ik ben er inmiddels achter dat het heel goed is. Toen ik het voor de eerse keer gebruikte vond ik dat het mijn wimpers wel verlengde maar niet voller maakte. Mijn wimpers zijn niet lang en zeker niet vol. Na de tweede keer gebruiken was ik ervan overtuigd dat dit voor mij de perfecte mascara is. Mijn wimpers worden wél voller van de Great Lash. Wat ik zelf héél fijn vindt is dat ik deze mascara ook zonder oogpotlood kan gebruiken. Want als ik Great Lash aanbreng worden mijn wimpers aan het begin (bij de wimperrand) erg vol. Dit geeft al meteen een vollere en gedefinieerde aanblik. Zo ontzettend mooi is dat, dit heb ik nog niet eerder bij een andere mascara gehad. Ik heb tot nu altijd Clinique High Impact gebruikt en was daar ook heel enthousiast over. Het verschil met de Great lash en de High Impact is dat High Impact de wimpers aanzienlijk voller maakt maar niet op zo'n gedefinieerde manier als de Great Lash. De Great Lash maakt je wimpers op een subtiele manier vol met als superresultaat dat ik ook zonder oogpotlood de deur uitkan.
7 Great lash mascara by Maybelline. I'm only using this mascara for two weeks now. At first i thought that it didn't made my lashes fuller, longer yes but fuller? After putting it on for the second time i was convinced that this is the perfect mascara for me. It does makes my lashes fuller, you can see it at the beginning of the lashes. My lashes look so dark and full that idon't really need an eyeliner. This is the first time a mascara has that effect on my lashes. I have such short an spare lashes. Great Lash gives my lashes that seductive look and i love it.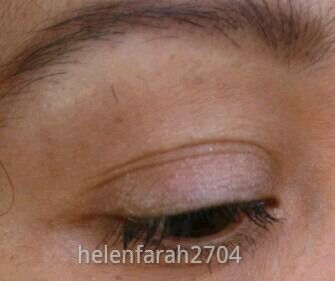 8. Het oogpotlood van Zoeva. Ook al iets uit de glossbox (mei). De kleur is Jungle Passion een mooie heldere kleur groen. Daar was ik super blij mee omdat ik vaak een groen potlood gebruik om de blik wat frisser te maken. Ik gebruik het potlood onder de onderste wimperrand en aan de binnenhoek van de ogen. Dit geeft een heldere en frisse blik. Wat ook heel fijn is dat het potlood lekker zacht is maar niet uitloopt. Een goeie keuze van Glossybox.
8. Eyeliner pencil by Zoeva. This pencil i received in a Glossybox too. It's a green colour called Jungle Passion. I was so content in receiving this in my Glossybox. I often use a green eyeliner pencil to brighten up my eyes. I put the liner beneath my lower lashes and in the inner corner of my eyes. This makes my eyes look bright. Love this pencil its soft and it stays on for the whole day.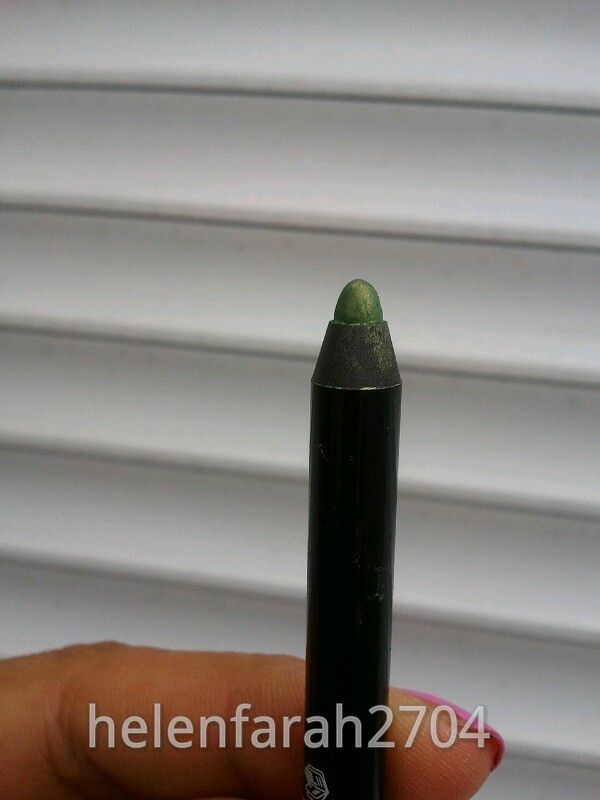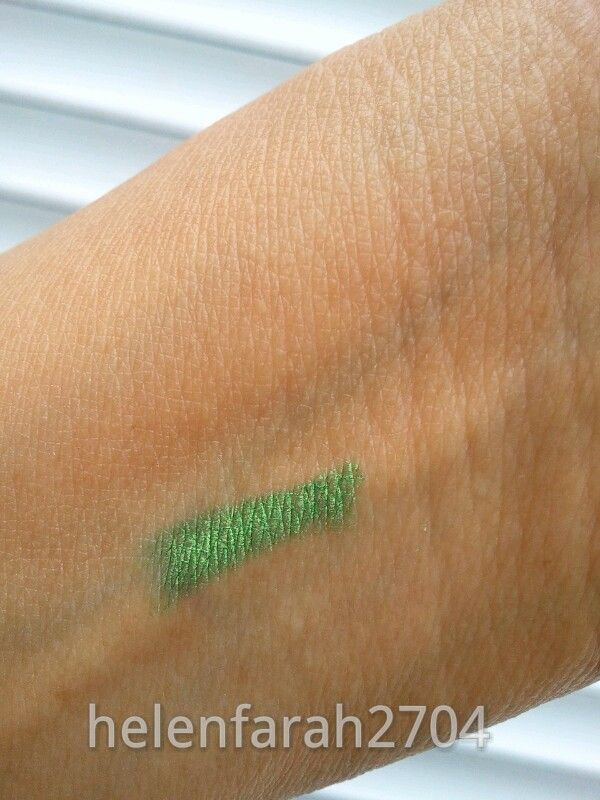 Hairproducts i use (for thick and curly hair)
Today i'm blogging about hair products. My hair is thick and curly, so i need extra care to keep it bouncy and soft. The shampoo i'm using for almost 2 years now is the Chi Nourish intense. I really love this shampoo because it doesn't dry out the ends of my hair (like other shampoo's do) and it really cleanses my scalp. I used to buy shampoos for normal hair to get that real clean feeling after shampooing. My experience with shampoos for dry hair is, that i didn't had that clean feeling after washing my hair. Thats why i love the Chi Nourish intense, it really cleanses my hair and its nourishing.
After washing i use the Chi nourish intense Silk hair Masque. I use it on toweldry hair. So after washin i put this in my hair and leave it in for about 10 minutes. Because my hair is thick it needs some time to soak in the product. After rinsing it out; my hair feels really soft and silky and its easy to comb through. I'm very satisfied with the Chi products.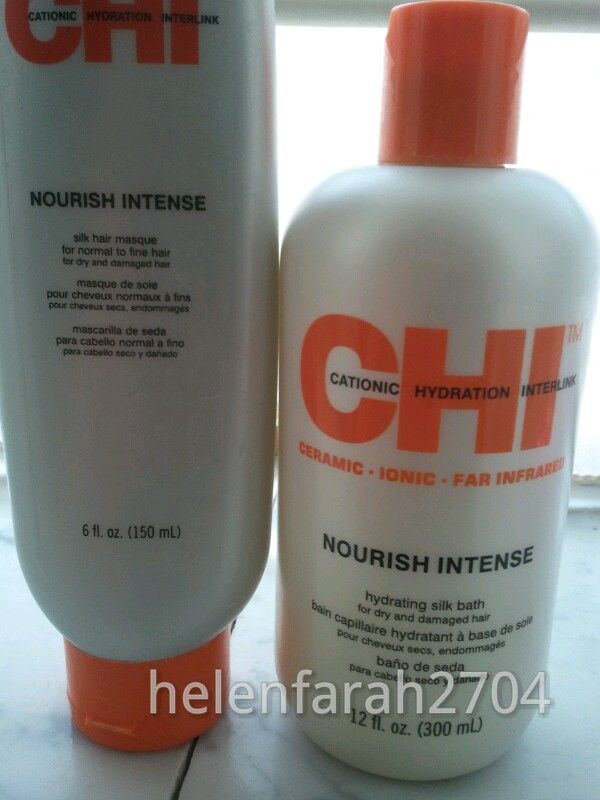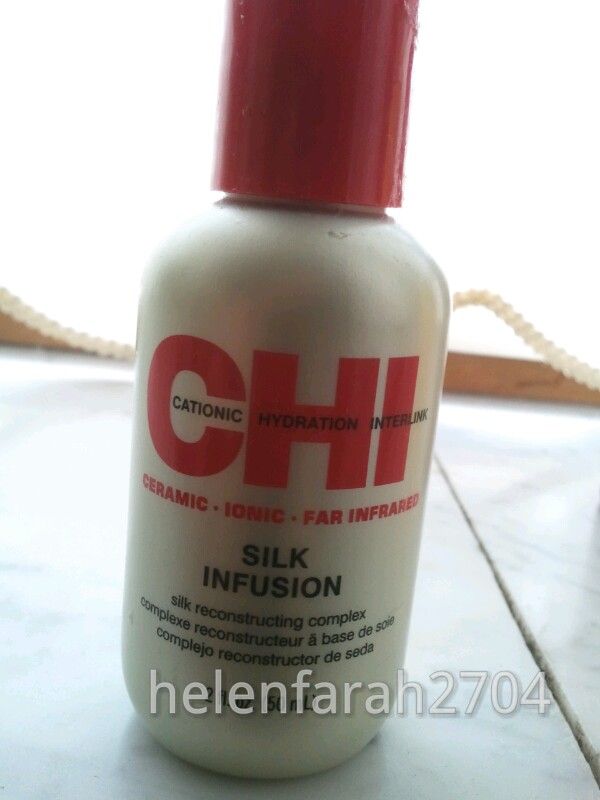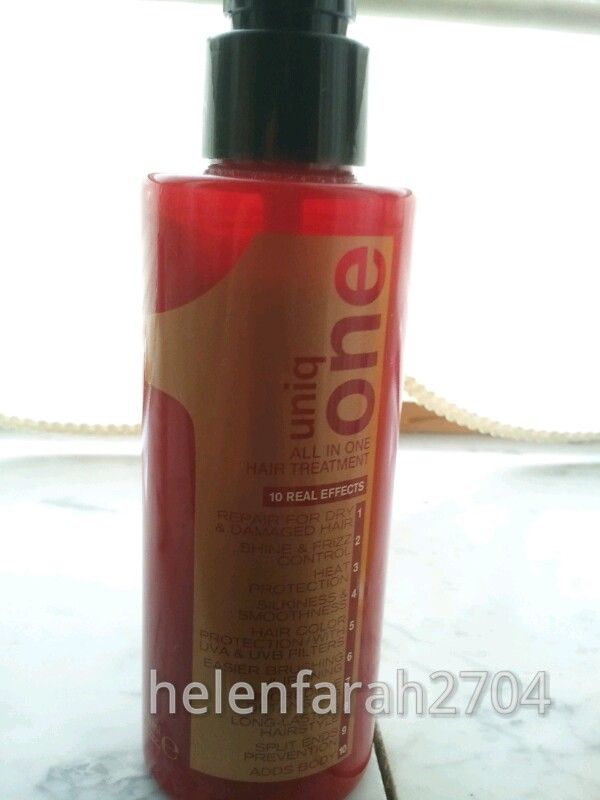 The Uniq one all in one treatment, is my protection shield before i blow dry. It's an all in one treatment (says the description on the bottle) thats takes care of: dry and damaged hair, shine and frizz control, heat protection, silkiness and smoothness, hair colour protection with uva/uvb filters, easier brushing and ironing, incredible detangling, long lasting hairstyle, splitt ends prevention, ads body.
I spray this in my wet hair before combing and dry blowing. I'm using this for 2 months now but i'm not so enthousiastic about it. Its a very thin substance and somehow i think that my hair needs something thicker and richer. The scent is something i also don't like, it's smells a bit like after shave. A very manly scent. This product does make my hair easy to comb through and bouncier. So thats a plus. After i finished this i'm going to search for another product. I think this is a really good product when your hair is not as thick as mine.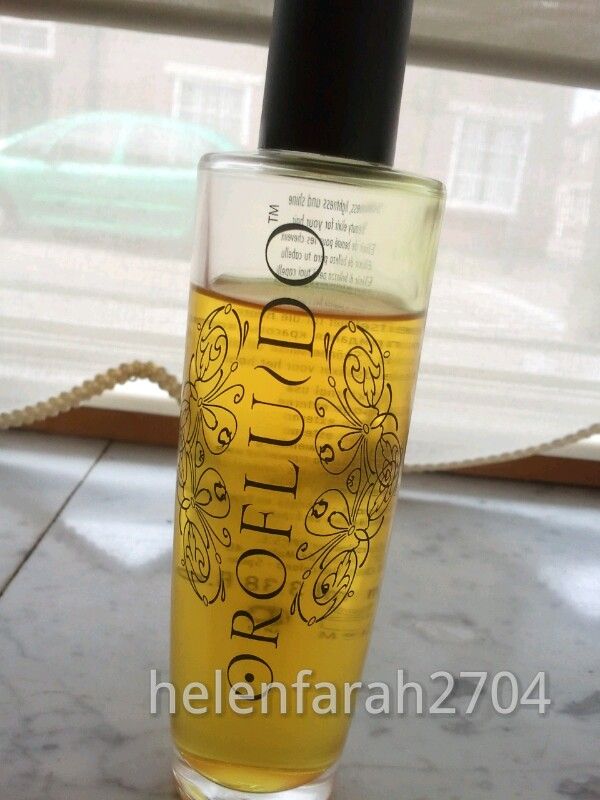 The Orofludo oil (maroccan oil) has a heavenly scent. So sweet! It has a Vanilla scent. This oil i put in the ends to get my hair shiny. Love this product. I use it every day to keep the shine.
Chi Silk infusion is also a leave in treatment. The product is a bit gel/oily like and it glides into your hair. It leaves your hair bouncy and shiny. The product actually contains silk. Not only your hair is smooth but your fingers too. So smooth my hairblower sometimes glides out of my hands.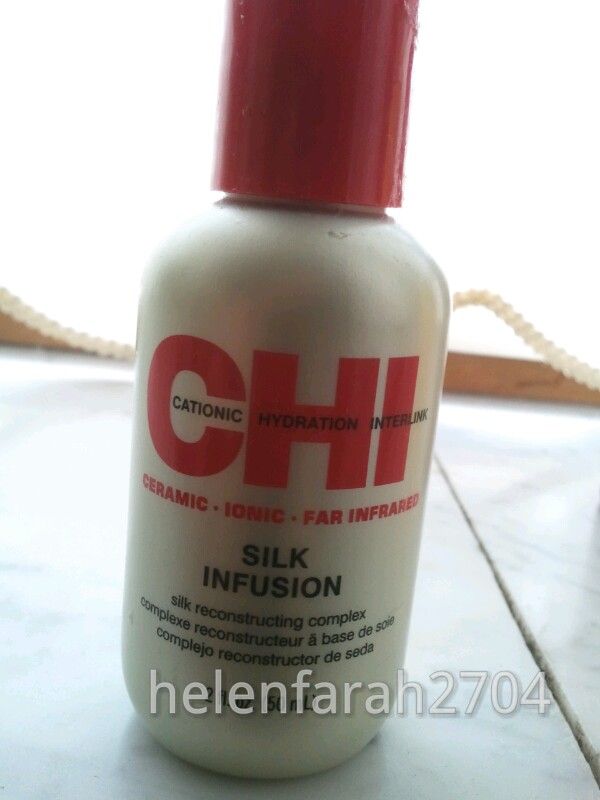 Maybelline color tattoo (also in english)
Hoera, ik heb vandaag 2 Maybelline Color tattoos gehaald. Goh daar heb ik lang op gewacht. Ze lagen bij het Kruidvat en helaas in maar 2 kleuren. Infinite White een wit zilver achtige kleur en Eternal Gold een goud kleur. Ook al zijn dit niet de kleuren die ik eigenlijk wilde, Taugh as Taupe en Tenacious Teal, ik ben er echt blij mee. Ik heb ze natuurlijk meteen geswatched en het zijn super kleuren. Dat je ze niet 24 uur op hebt kan ik me voorstellen maar ik geloof best dat ze 24 uur lang blijven zitten. Dat voel je aan als je het aanbrengt het voelt een beetje stug, niet de juiste woordkeus maarja, aan.
Ook als ik met mijn vingers over de swatch ga, blijft de kleur op zijn plaats zitten. Een super aankoop. Ik kan niet wachten tot ik de andere kleuren ook op de kop kan tikken. Hieronder vindt je de foto's.
Hooray, i've been waiting so long for Maybelline's color tattoos to come out in Holland. But today is the day, i've bought two of them. The only two that were left in my drugstore. The colors i've bought are: Infinite White a white/silvery color and Eternal Gold a gold color. I really wanted Taugh as Taupe and Tenacious Teal but i'm very satisfied with these two colors. And yes i've made a swatch of both the colors and they are beautiful. I do believe that you can where these for 24 hours (no one will, ofcourse) because of the structure of the shadow. When you glide over it with your finger, it doesn't smudge. So long wearing a 100% yes. Cant'wait to get my hands on the other colors.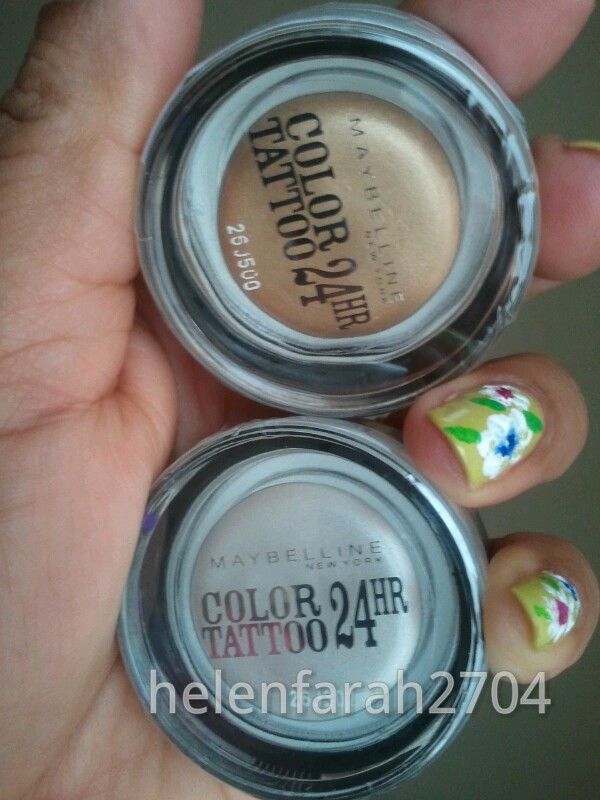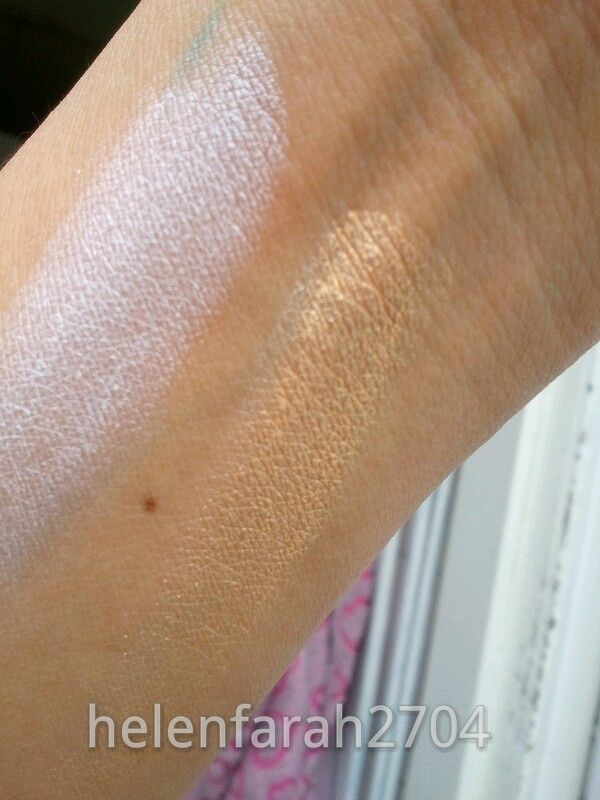 N.O.T.D. (english)
Today's n.o.t.d. is all about flowers. Its almost officialy summer (more sunshine please!) so i decided to paint some flowers on my nails.
I chose to paint al my nails, its also nice to paint 1 or 2 nails. Painting flowers is not that dificult. You need a brush wit a straight top, like in the picture below. You dip one end of the brush in white paint and the other in blue (or whatever your choice of color is). Place the brush on your nails and you make one stroke. Theres the beginning of your flower. You can start by practising it on a piece of paper. Have fun.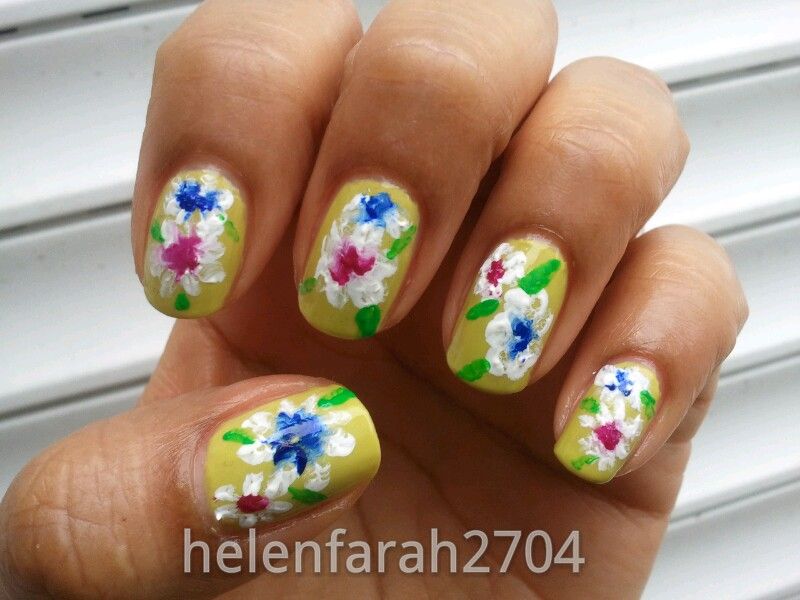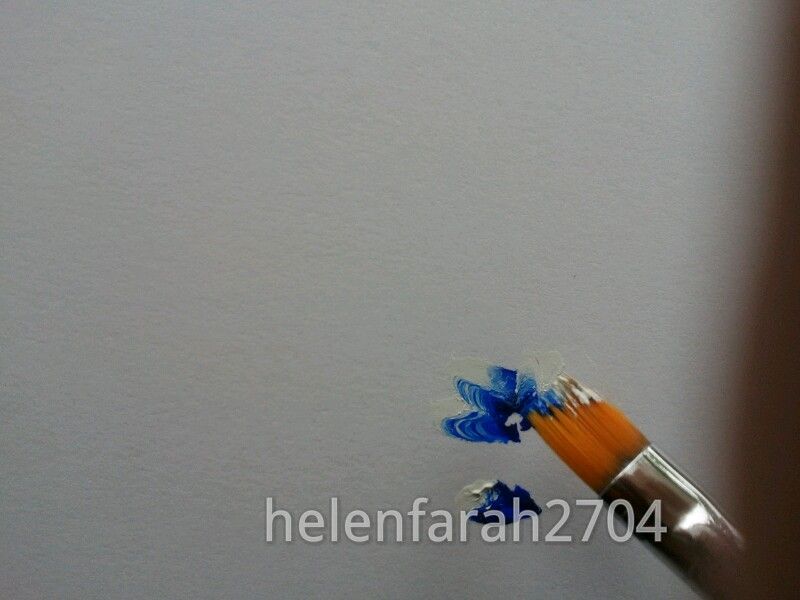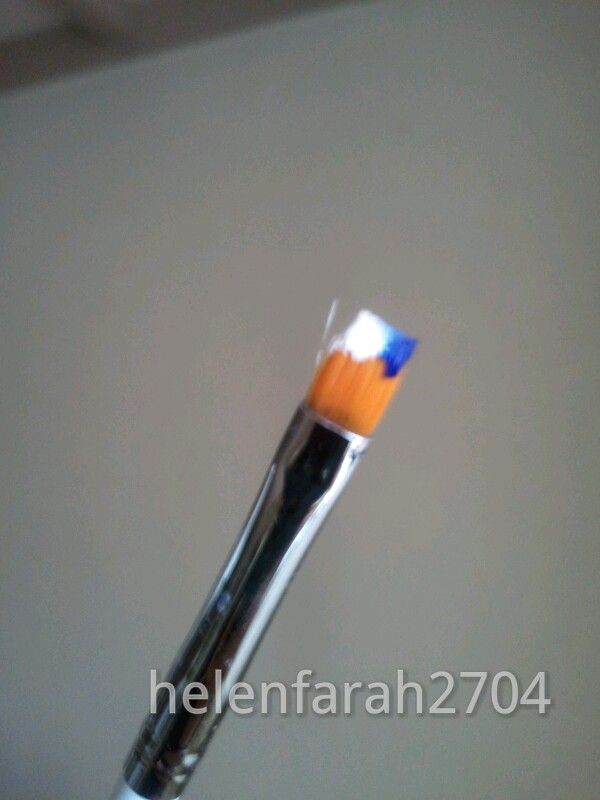 Make up brushes i use
Today i'm going to show you the make up brushes i use. I use brushes from a variety of brands. I have some expensive ones but overall i have the affordable ones.
Lets start with the brushes i recently purchased. 1 angled brush and 1 flat brush (its a bit wider then the regular ones). The brand is CosmiStar. I bought these at a make up convention. Too bad i cant say where you can buy these. You might have to look that up on the internet.
I've already used these brushes and i love them. The flat one i use for putting on eyeshadow (basecolour) over the entire eye (lid and crease). The angled one is for putting on a darker colour (contouring) in the outer V. I really like the quality of the brushes, they're soft and they don't shed.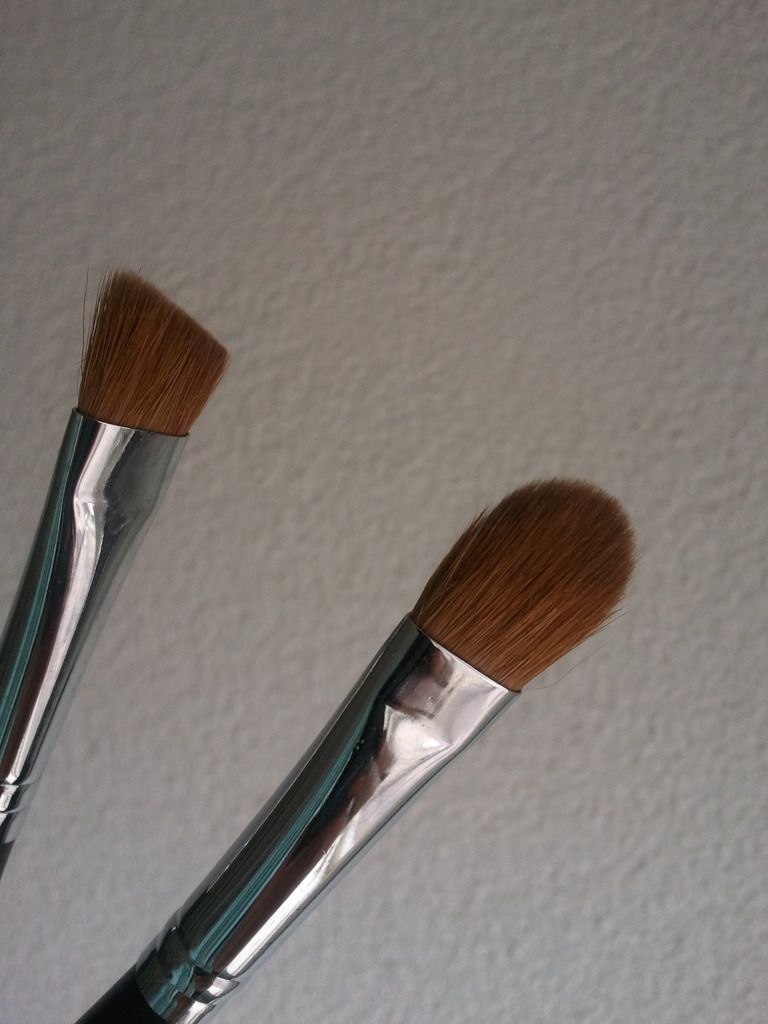 The next one is contouring or blush brush from Sephora. Its the numer 43 flat top. I use to put one blusher. The quality of this brush is really good. Its puts on blush so perfectly. U don't have to use too much product to see the result on your face. This brush is also very soft it just glides gently on the cheeks. I'm going to buy another one for contouring.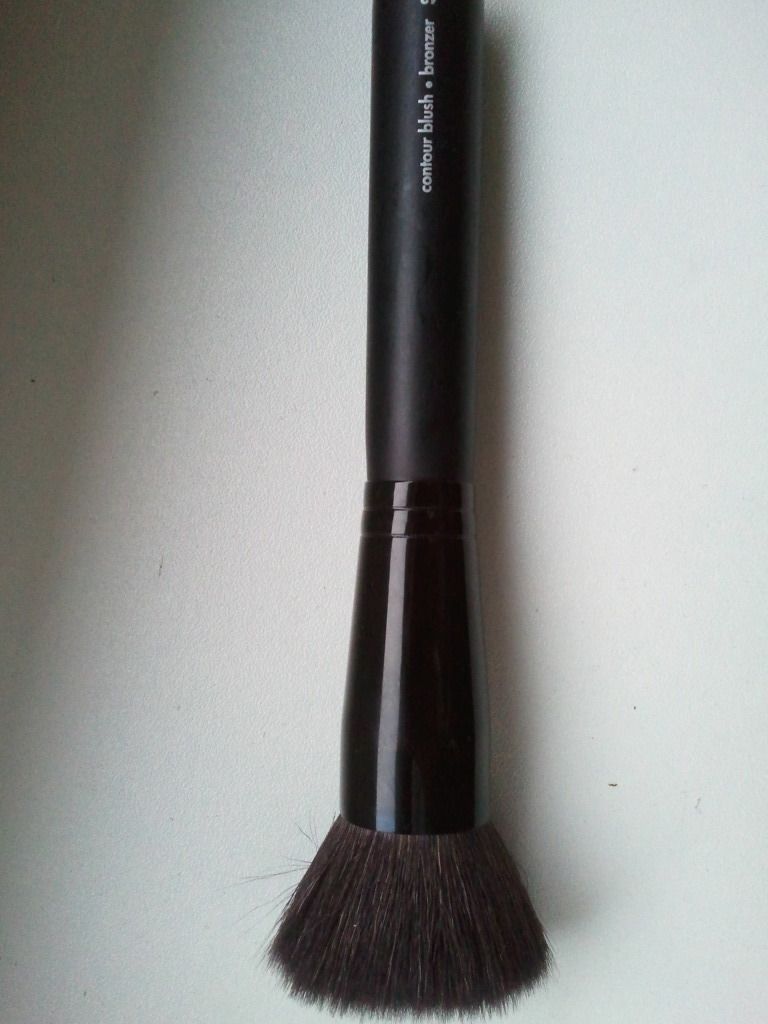 Next is my powder brush. This one is also really soft and its from the brand Royal and Langnicker Silk pro ( powder c101-s). I use this to apply powder on the T zone by gently pushing it on to my skin. I use it for powdering my eyes and under my eyes. Especially after applying concealer. I bought this brush on Imats LA 2010. I guess that they are sold on websites for professional make up. I dont know anymore what i payed for this.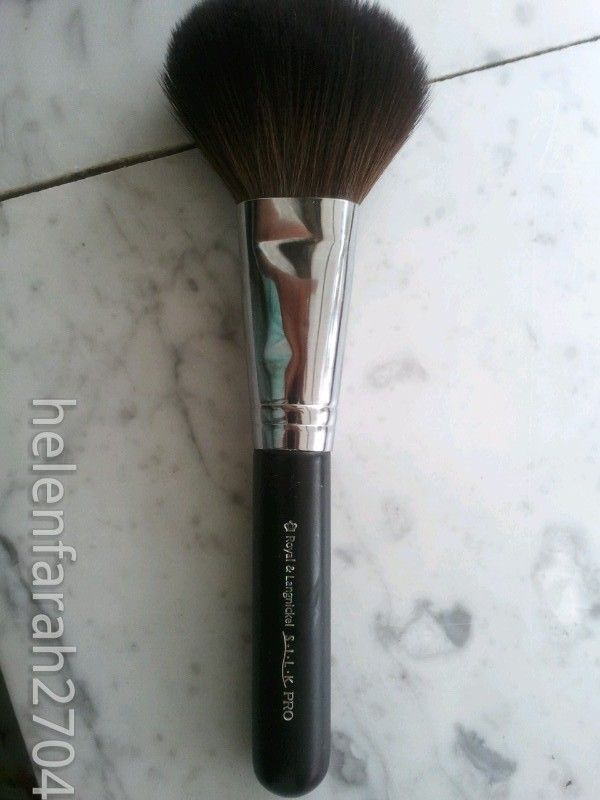 Next is my concealerbrush its from silk pro ( taldon short liner c456). You can also use this brush for stippling eyeshadow on the beginning of your lashes. For that natural eyeliner look. I use it for concealer, just for putting the concealer under the eye, eyelids and under eye area. The concealer i will be petting (gently) with my fingertips onto the skin.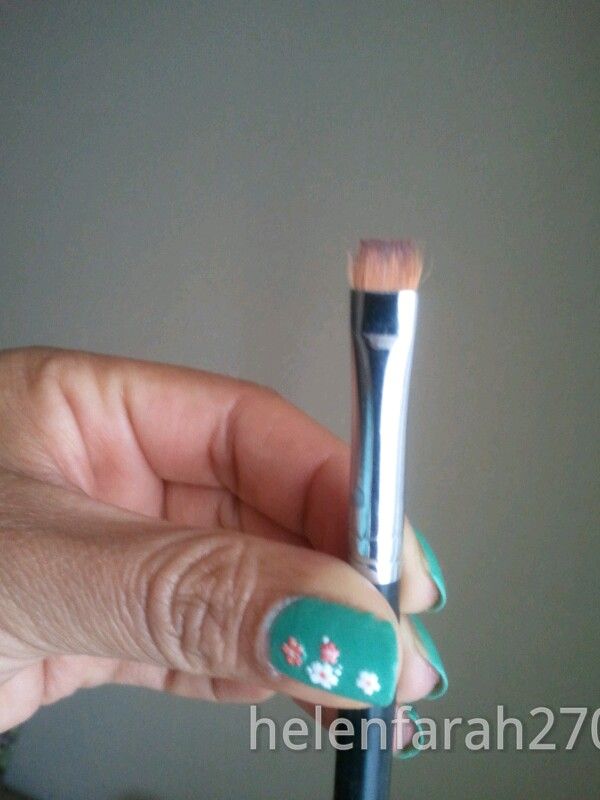 My eyeshadow brushes and 1 eyeliner brush. There are 5 of them. From the left to the right: eyeliner brush (catrice) it has an angle on the top, for easily applying the eyeliner. If you're not good in applying eyeliner with a straight brush, you might want to try this one. The angle makes it easier to apply the liner even in the corners.
The next brush is an eye detailer from Silk pro (C470) i use this one to put one eyeliner or to apply eyeshadow under the eye. At the beginning of the lashes. This brush gives you that beautiful smudged eye look.
The thirth brush (from the left) i use for applying eyeshadow on the lids. It has a small top, perfectly for my eyelids.
The fourth brush i use for putting on eyeshadow in the crease and browbone. Its from the brand Cala i bought this at Imats too. The brush part is really flexible.
Second from the right is another Silk Pro brush ( Taklon Shadow C426). This is a small brush great for putting on highlighter at the beginning of your eye (in the corner).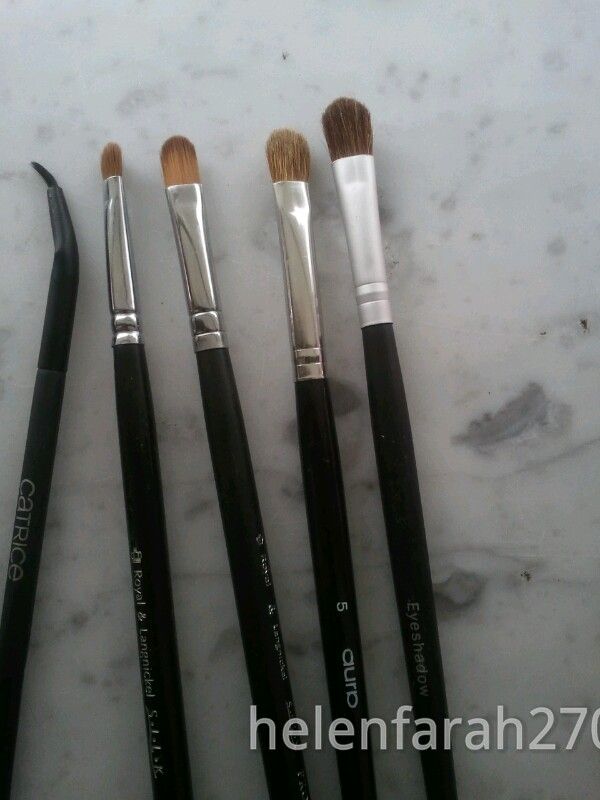 Now to my Bobby Brown ultra fine eye liner. This one i use for applying gelliner into the waterline. U can use a brush like this for lining the eyes as well. But i choose to use for my waterline.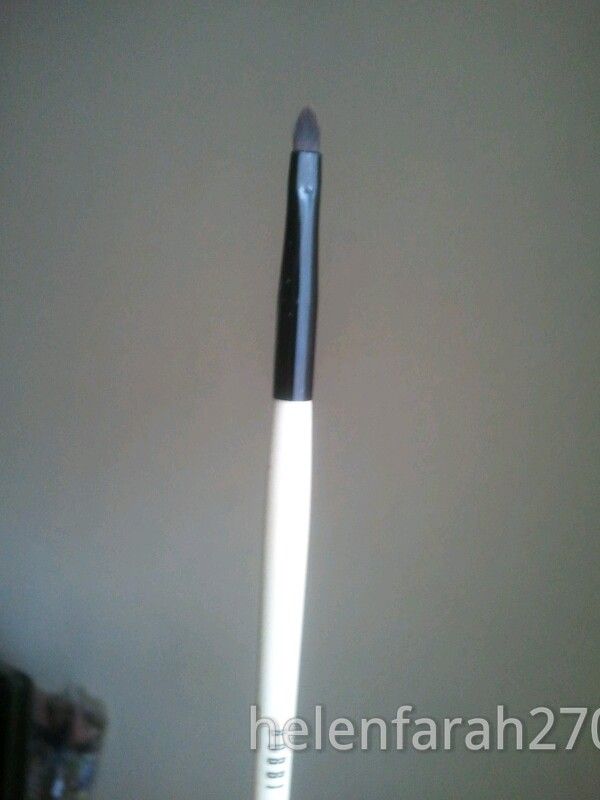 These aren't all the brushes i own. But they are the brushes i use on a daily base. So i hope you find this informative. If you have questions about how to use brushes, feel free to ask.

For cleaning my brushes i use babyshampoo. I clean my brushes once a week. For inbetween cleansing i use a brush cleanser. I have one from Make up forever which i bought at sephora. Its easily to use, you just spray some product on your brush and it dries instantly.



{ Last Page } { Page 1 of 5 } { Next Page }