Advantages and Disadvantages of Road Marking Tapes
Pavement marking materials mainly consist of thermoplastic paint, cold solvent paint and marking tapes. Thermoplastic paint and cold solvent paint are the most common materials for line marking projects. However, pavement tapes, a new marking method, have been widely used in urban road construction.
Thermoplastic paint is the most common used materials for line marking. It has advantages of long life on high volume road, quick set time, good night time visibility and excellent durability. However, pavement surface condition is an important factor that affects the performance. The road surface must be clean enough. It requires specialized installation equipment, which increase the initial cost of whole road marking project.
Cold solvent and waterborne paint cost less than thermoplastic paint. Apply and clean-up of them is also very easy. But the service life in high volume traffic road is much shorter. It also doesn't adhere well to concrete road.
Pavement marking tapes can be divided into temporary tapes and permanent tapes. The main materials of tapes are flexible polymer, synthetic rubber and thermoplastic paint etc.
Removable pavement marking tapes can also be used in road construction sites as temporary markers. The tapes can be placed to shift the lanes and black tapes can be used to temporarily blackout the existing markings. At the end of the constructions or within 6 months, the tapes can be pulled out off the surface without using heat, solvents, or machines. Temporary marking tapes are ideal for short-term applications such as work zones.
Permanent tapes are designed to be long-term durable road markings capable of providing 5 to 8+ years of service life. The tapes are mainly used for marking edge lines, centerlines, legends and symbols.
Thermoplastic paint tapes, the latest launched permanent pavement tapes which are made from thermoplastic paint. Put tapes in correct place and melt, the tapes will conform and bond to the road surface.
Advantages of permanent road marking tapes:
1. Easily installed without special equipment.
2. Durable. Providing 5 to 8 years of service life depending on the traffic environment.
3. High retro-reflectivity.
4. Environment friendly. Little damage to local environment and workers.
Pavement marking tapes also have some disadvantages: high initial cost and not suitable for old roads in poor conditions. The two factors limit the application of marking tapes.
For more info about road marking industry news, visit Roadsky News Center.
Rubber Speed Bumps for Vehicle Safety
When you are driving, you need to be alert always as a small mistake from your side can lead to fatal accidents. There are few traffic devices that help you to focus on your driving and make you drive in a careful way. Speed bumps are one of them.
Commonly known as speed breakers, these devices alert you when you have to slow down your driving skills. These bumps are installed on key areas on the road to let you know that you have to calm down while driving. These bumps come in various types; however the ones made from rubber seem to have a lot more advantages than the ones made from other materials. Let us understand more about the advantages of using rubber speed bumps, in this article.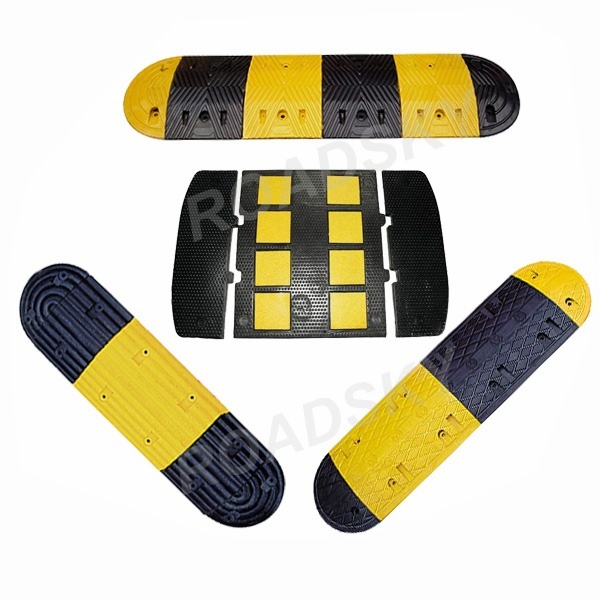 1. Cost Effective
Speed bumps that are made from asphalt, metal, concrete or plastic are quite costly and can burn a big hole in your pocket, when you install them in the long roads that lead to your property. When you want to buy speed bumps in bulk, rubber is the most preferred material as it is reasonably priced. One speed bump costs just a little over $100, which is quite a convincing reason as to why you need to buy them.
2. Installation process
Unlike metal or plastic speed bumps, rubber speed breaks are very easy to install. They can be dismantled with the same ease as well. On an average, it takes just about 45minutes to one hour to install a rubber speed bump. This makes it one of the most flexible materials to be used in case of an emergency. These rubber speed breakers can be taken from one place to another quite easily for installation.
3. Eco-friendly
Since rubber speed bumps are made from recycle tyres, they are quite eco-friendly. Other materials like metal, plastic and asphalt make use of chemicals like petroleum, which are not safe for the environment. Rubber bumps are very durable and sturdy as they are made from tyres that have stood the test of time and faced various climatic conditions.
4. Suits all roads
One of the best things about rubber speed bumps is that it can be used for all kinds of road surfaces. This makes it one of the cost-effective brands available in the industry today because you don't have to invest in different types of models for different roads in your area. Asphalt and other materials need different coats and polishing over it to make them suitable for the roads that they are installed in. When you use rubber speed bumps, you can save yourself from spending these extra costs on polishes and coatings.
5. Visibility
Rubber speed bumps, when given reflective yellow stripes, become highly visible during the night hours, thereby helping you to drive safely and carefully. Since they are sturdy, they can stand all kinds of climate and are highly reliable in cases of tricky roads, rough terrains, uneven roads and the like.
If you want to get quotes for some high quality rubber speed bumps and related accessories, you can visit Roadsky for more details about rubber speed bumps. This website guides you through various products in this category with a detailed description about each one for your better understanding.